Programmation Web
HTML5 et canvas. SVG et dessin vectoriel. Journal de llumeao: Sozi revient. Bonjour à toutes et tous, J'ai peur de faire pâle figure après l'annonce du retour de MultideskOS, mais je tente ma chance malgré tout.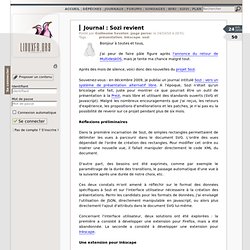 Après des mois de silence, voici donc des nouvelles du projet Sozi. Souvenez-vous : en décembre 2009, je publiai un journal intitulé Sozi : vers un système de présentation alternatif libre. Tapper[ware] » Perspective texture with 6 lines of SVG. SVG filters in HTML In modern browsers there's lots of functionality that's rarely used, because it's either hard to understand and/or hard to use.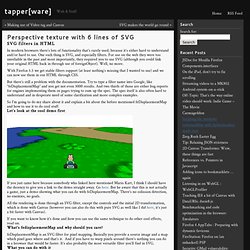 One such thing is SVG, and especially filters. For use on the web they were too unreliable in the past and most importantly, they required you to use SVG (although you could link your original HTML back in through use of foreignObject).
Ergonomie Web. Php. SQL. NoSQL. Javascript. HaXe, un language universel orienté web. Application Facebook. Developement web en général. Templates pour balisage (x)html, css, etc.
APIs.
---
sleeping_banana Jun 6 2011

Super tree! je pense que je vais te le voler sans aucun remors =)
---