Pas classé
ESPERANTO. L'espéranto. Apprendre l'Espéranto. Saluton!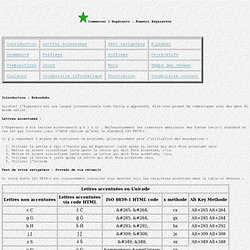 L'Espéranto est une langue internationale très facile à apprendre. Elle vous permet de communiquer avec des gens du monde entier. L'Espéranto a six lettres accentuées(c g h j s u) . Malheureusement les créateurs américains des fontes Latin-1 standard ne les ont pas incluses ,ceci n'aété réalisé qu'avec le standard ISO 8859-1. How and why to learn Esperanto. UK | Magazine | Why does anyone learn Esperanto? Littlewoods Direct says it's using a language constructed in the 19th Century, Esperanto, to launch a new clothing range.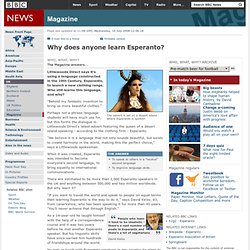 Who still learns this language, and why? "Behold my fantastic invention to bring us more beautiful clothes. " Perhaps not a phrase language students will have much use for, but this forms the dialogue in Littlewoods Direct's latest advert featuring the queen of a desert island speaking - according to the clothing firm - Esperanto. "We believe it is a language that not only sounds beautiful, but exists to create harmony in the world, making this the perfect choice," says a Littlewoods spokesman.
When it was created, Esperanto was intended to become everyone's second language, to bring equality to international communications. How to learn. How to learn Esperanto La Internacia Lingvo For links to information in other languages or geographical areas, please start at the home page of Esperanto.Org and choose the language or flag of that geographic area.
Be aware that those pages are in their native language and Esperanto only. Free Esperanto Course. What Is Esperanto?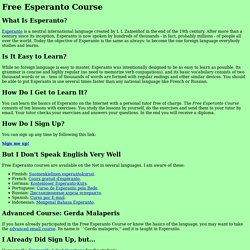 Esperanto is a neutral international language created by L L Zamenhof in the end of the 19th century. After more than a century since its inception, Esperanto is now spoken by hundreds of thousands - in fact, probably millions - of people all over the world. Today the objective of Esperanto is the same as always: to become the one foreign language everybody studies and learns. Is It Easy to Learn? While no foreign language is easy to master, Esperanto was intentionally designed to be as easy to learn as possible. Learn NOT to speak esperanto. Learn Not to Speak Esperanto has moved into this ToC-ified subdirectory to allow more room for appendices.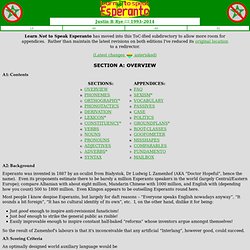 Rather than maintain the latest revisions on both editions I've reduced its original location to a redirector. (Latest changes. Communication / Forum / Introduction. KIAaze skribis: Saluton,Even though the lernu site is well done, I'm looking for Esperanto learning software on GNU/Linux such as dictionaries, translators or learning software.Can anyone recommend me some?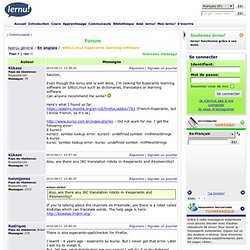 Here's what I found so far: (French-Esperanto, but I know French, so it's ok) : Did not work for me. I get the following error:$ kurso3kurso3: symbol lookup error: kurso3: undefined symbol: initPAnsiStrings$ kursokurso: symbol lookup error: kurso: undefined symbol: initPAnsiStrings. ABC de la langue française : forums / langues régionales, espéranto, anglais: pourquoi f. Lars Forman, professeur de langues : "Comme professeur de langues, j'étais très sceptique à propos de l'espéranto jusqu'à ce que je me trouve, il y a quelques années, devant un groupe de professeurs d'espéranto afin de faire une conférence sur la pédagogie des langues.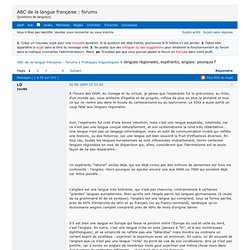 Je constatais alors que cette langue que l'on dit "artificielle" était utilisée avec élégance par les participants entre eux et aujourd'hui -- après avoir été professeur depuis quatre ans à l'École Supérieure Populaire de Karlskoga, dans la section Espéranto --, je sais qu'elle fonctionne aussi bien que toute autre langue. "
---