Hébergement internet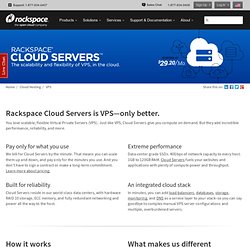 Rackspace Cloud Servers is VPS—only better. You love scalable, flexible Virtual Private Servers (VPS). Just like VPS, Cloud Servers give you compute on demand. But they add incredible performance, reliability, and more. Pay only for what you use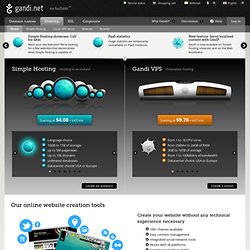 Language choice 10GB to 1TB of storage up to 5M pageviews Up to 100 domains unlimited databases Datacenter choice: USA or Europe PaaS? Platform as a Service means that you create your hosting environment by simply choosing the services that you want.
Hébergement Gandi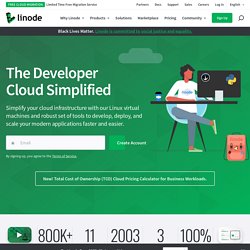 We're a cloud hosting company built upon one simple premise: provide the best possible tools and services to those that know what they need — better hosting. A Linode server means freedom. You get everything from the kernel and root access on up. All managed by our simple yet very powerful control panel. Discover why Linode may be right for you.
Public Cloud Hosting – 2GB, 4GB, 8GB, 16GB, 32GB RAM | JoyentCloud
Exceptional VPS hosting - 6sync Virtualization
Zerigo | Cloud VPS Hosting | Server Monitoring | Managed DNS Hosting
DNS Plan Migration Delayed Unfortunately, unforeseen circumstances with Akamai will delay our ability to migrate all of our DNS zones to their infrastructure by January 31st. Many domains have already been migrated... Read More... Zerigo Price Increase Facts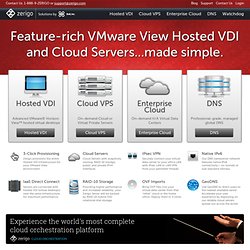 Dedicated Server Webhosting | VPS Hosting | Shared cPanel Webhosting
Cloud Services Uptime | CloudHarmony
Top Provider Poll 2013-Q4 — The Results Ladies and gentlemen: the moment has come! The votes have been counted, the results have been checked, and the winners have sent in the offers. The results for the Top Provider Poll 2013-Q4 are finally here!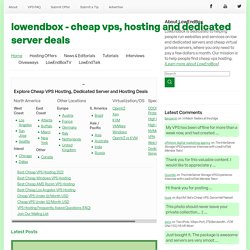 So Prive Cloud Computing
Qu'est-ce que l'offre de Cloud Computing de So Privé ? Imaginez être capable de provisionner un serveur en quelques minutes ou upgrader un serveur automatiquement. De pouvoir les allumer ou les éteindre, et les payer uniquement selon vos besoins. C'est l'idée derrière le Cloud Computing (« nuage de serveurs ») de So Privé. Personnalisées à volonté, chaque VM (serveur virtuel) de notre cloud vous donne un accès total en administrateur au système d'exploitation de votre choix.