DOM, XML, JSON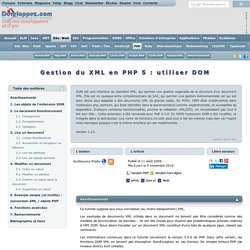 Ce tutoriel suppose que vous connaissez (au moins basiquement) XML. Les exemples de documents XML utilisés dans ce document ne doivent pas être considérés comme des modèles de structuration de données... Ils ont été choisis pour illustrer des problématiques précises relatives à l'API DOM. Nous allons travailler sur un document XML constitué d'une liste de quelques pays, classés par continents. Les informations contenues dans ce tutoriel concernent la version 5.0.0 de PHP. Dans cette version, les fonctions DOM XML ne lancent pas d'exception DomException en cas d'erreur.
Showing a quick example of how to use this class, just so that new users can get a quick start without having to figure it all out by themself. ( At the day of posting, this documentation just got added and is lacking examples. ) <?php
DOMDocument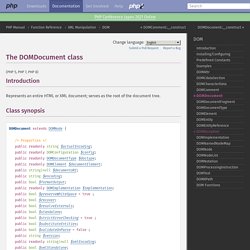 DOMNode
DOMNodeList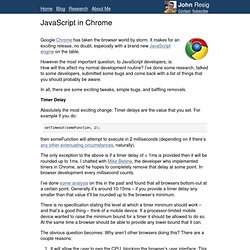 Google Chrome has taken the browser world by storm. It makes for an exciting release, no doubt, especially with a brand new JavaScript engine on the table. However the most important question, to JavaScript developers, is: How will this affect my normal development routine? I've done some research, talked to some developers, submitted some bugs and come back with a list of things that you should probably be aware.
JavaScript in Chrome
Référence du DOM Gecko - MDC
Qu'est ce que c'est ?