Community and governance
Quel gâchis…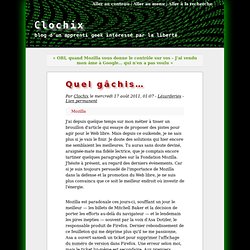 J'ai depuis quelque temps sur mon métier à tisser un brouillon d'article qui essaye de proposer des pistes pour agir pour le Web libre. Mais depuis ce ouikende, je ne sais plus si je vais le finir. Je doute des solutions qui hier encore me semblaient les meilleures.
Blog Archive » The Decline and Fall of The URL
The URL is a very powerful concept; it represents a universal way to access any resource anywhere in the world.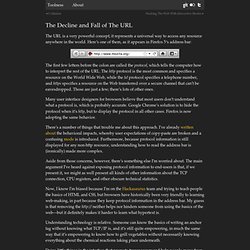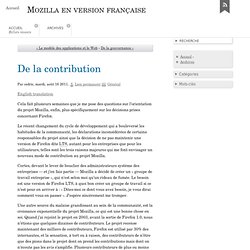 De la contribution - Mozilla en version française
English translation Cela fait plusieurs semaines que je me pose des questions sur l'orientation du projet Mozilla, enfin, plus spécifiquement sur les décisions prises concernant Firefox. Le récent changement du cycle de développement qui a bouleversé les habitudes de la communauté, les déclarations inconsidérées de certains responsables du projet ainsi que la décision de ne pas maintenir une version de Firefox dite LTS, autant pour les entreprises que pour les utilisateurs, telles sont les trois raisons majeures qui me font envisager un nouveau mode de contribution au projet Mozilla.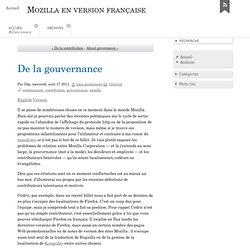 De la gouvernance - Mozilla en version française
English Version
About governance - Mozilla en version française
Version française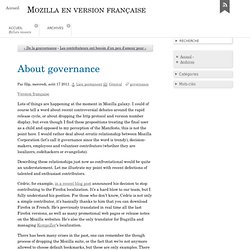 Ce n'est un secret pour personne, la nouvelle politique de 6-week releases de Mozilla ne fait pas que des heureux.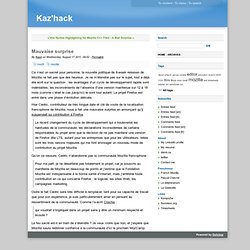 Mauvaise surprise - Kaz'hack
What needs to happen before you open your eyes? @ Yet Another Tech Blog
As already happened in the past on this blog, this is a guest post from my friend Iacopo Benesperi (iacchi), a long-standing member of the Italian Mozilla community.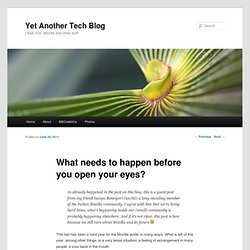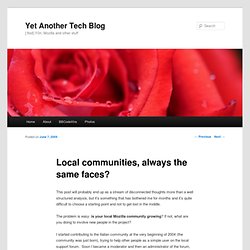 This post will probably end up as a stream of disconnected thoughts more than a well structured analysis, but it's something that has bothered me for months and it's quite difficult to choose a starting point and not to get lost in the middle. The problem is easy: is your local Mozilla community growing?
Local communities, always the same faces? @ Yet Another Tech Blog