Community and governance
Quel gâchis… J'ai depuis quelque temps sur mon métier à tisser un brouillon d'article qui essaye de proposer des pistes pour agir pour le Web libre.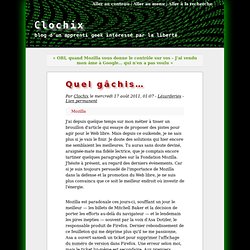 Mais depuis ce ouikende, je ne sais plus si je vais le finir. Je doute des solutions qui hier encore me semblaient les meilleures. Blog Archive » The Decline and Fall of The URL. The URL is a very powerful concept; it represents a universal way to access any resource anywhere in the world.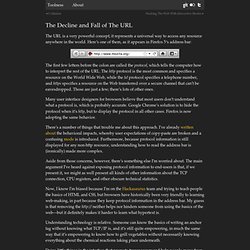 Here's one of them, as it appears in Firefox 5′s address bar: The first few letters before the colon are called the protocol, which tells the computer how to interpret the rest of the URL. The http protocol is the most common and specifies a resource on the World Wide Web, while the tel protocol specifies a telephone number, and https specifies a resource on the Web transferred over a secure channel that can't be eavesdropped. Those are just a few; there's lots of other ones. De la contribution - Mozilla en version française. English translation Cela fait plusieurs semaines que je me pose des questions sur l'orientation du projet Mozilla, enfin, plus spécifiquement sur les décisions prises concernant Firefox.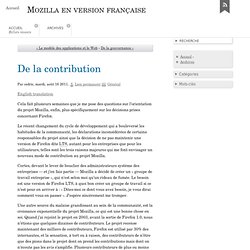 Le récent changement du cycle de développement qui a bouleversé les habitudes de la communauté, les déclarations inconsidérées de certains responsables du projet ainsi que la décision de ne pas maintenir une version de Firefox dite LTS, autant pour les entreprises que pour les utilisateurs, telles sont les trois raisons majeures qui me font envisager un nouveau mode de contribution au projet Mozilla. De la gouvernance - Mozilla en version française.
English Version Il se passe de nombreuses choses en ce moment dans le monde Mozilla.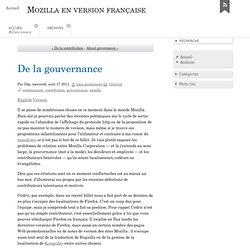 Bien sûr je pourrais parler des récentes polémiques sur le cycle de sortie rapide ou l'abandon de l'affichage du protocole http ou de la proposition de ne pas montrer le numéro de version, mais même si je trouve ces propositions infantilisantes pour l'utilisateur et contraire à ma vision du manifesto, ce n'est pas le but de ce billet. Je vais plutôt exposer les problèmes de relation entre Mozilla Corporation — et là j'entends au sens large, la gouvernance (mot à la mode), les décideurs et employés — et les contributeurs bénévoles — qu'ils soient localisateurs, codeurs ou évangélistes.
About governance - Mozilla en version française. Version française Lots of things are happening at the moment in Mozilla galaxy.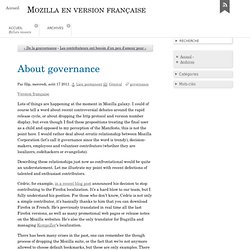 I could of course tell a word about recent controversial debates around the rapid release cycle, or about dropping the http protocol and version number display, but even though I find these propositions treating the final user as a child and opposed to my perception of the Manifesto, this is not the point here. I would rather deal about erratic relationship between Mozilla Corporation (let's call it governance since the word is trendy), decision-makers, employees and volunteer contributors (whether they are localizers, codehackers or evangelists). Describing these relationships just now as confrontational would be quite an understatement. Mauvaise surprise - Kaz'hack. Ce n'est un secret pour personne, la nouvelle politique de 6-week releases de Mozilla ne fait pas que des heureux.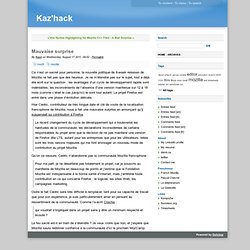 Je ne m'étendrai pas sur le sujet, tout a déjà été écrit sur la question : les avantages d'un cycle de développement rapide sont indéniables, les inconvénients de l'absence d'une version maintenue sur 12 à 18 mois (comme c'était le cas jusqu'ici) le sont tout autant. Le projet Firefox est entré dans une phase d'évolution délicate. Hier Cédric, contributeur de très longue date et clé de voute de la localisation francophone de Mozilla, nous a fait une mauvaise surprise en annonçant qu'il suspendait sa contribution à Firefox.
What needs to happen before you open your eyes? @ Yet Another Tech Blog. As already happened in the past on this blog, this is a guest post from my friend Iacopo Benesperi (iacchi), a long-standing member of the Italian Mozilla community.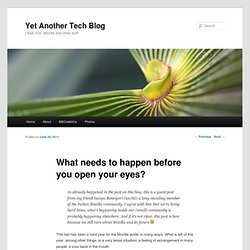 I agree with him that we're living hard times, what's happening inside our (small) community is probably happening elsewhere. And if it's not clear, this post is here because we still care about Mozilla and its future This last has been a hard year for the Mozilla world, in many ways. What is left of this year, among other things, is a very tense situation; a feeling of estrangement in many people, a sour taste in the mouth. Local communities, always the same faces? @ Yet Another Tech Blog. This post will probably end up as a stream of disconnected thoughts more than a well structured analysis, but it's something that has bothered me for months and it's quite difficult to choose a starting point and not to get lost in the middle.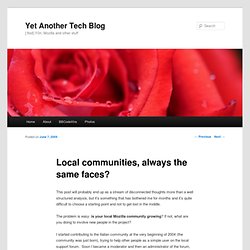 The problem is easy: is your local Mozilla community growing? If not, what are you doing to involve new people in the project? I started contributing to the Italian community at the very beginning of 2004 (the community was just born), trying to help other people as a simple user on the local support forum. Soon I became a moderator and then an administrator of the forum, after that I started working also on localization: first the integrated Firefox help, then web projects (Mozilla Europe, AMO) and now also software products (Firefox and Fennec). It's more than five years of active contribution to the Italian community.
---