Siti per Seo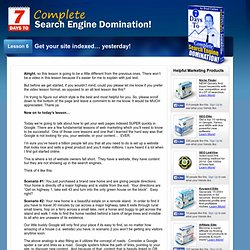 Lesson 6 | SEO Indianapolis + Free Google Ranking Guide => How To Increase Google Ranking Tips
Alright, so this lesson is going to be a little different from the previous ones. There won't be a video in this lesson because it's easier for me to explain with just text. But before we get started, if you wouldn't mind, could you please let me know if you prefer the video lesson format, as opposed to an all text lesson like this? I'm trying to figure out which style is the best and most helpful for you. So, please scroll down to the bottom of the page and leave a comment to let me know.
Posizionamento siti nei motori di ricerca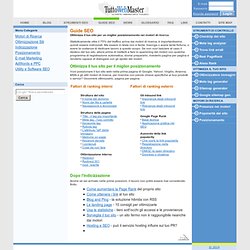 Ottimizza il tuo sito per un miglior posizionamento nei motori di ricerca Statisticamente oltre il 75% del traffico arriva dai motori di ricerca, è importantissimo quindi essere indicizzati. Ma essere in testa non è facile, bisonga o avere tanta fortuna, o avere la costanza di dedicare lavoro a questo scopo. Se non vuoi lasciare al caso il destino del tuo sito, allora prima di metterti a fare lo spamming dei motori con qualche programma di registrazione automatica, dovrai prepararlo, rivederlo pagina per pagina e renderlo capace di dialogare con gli spider dei motori. Ottimizza il tuo sito per il miglior posizionamento Vuoi posizionare il tuo sito web nella prima pagina di Google, Yahoo!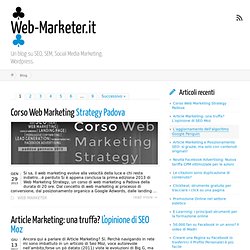 ♣ SEO | Social Media Marketing | Wordpress | Web-Marketer.it ♣
Corso Web Marketing Strategy Padova Si sa, il web marketing evolve alla velocità della luce e chi resta indietro…è perduto Si è appena conclusa la prima edizione 2013 di Web Marketing Strategy, un corso di web marketing a Padova della durata di 20 ore. Dal concetto di web marketing al processo di conversione, dal posizionamento organico a Google Adwords, dalle landing ... Article Marketing: una truffa? L'opinione di SEO Moz Ancora qui a parlare di Article Marketing?
Analytics | Sito web ufficiale
Webmaster Vuoi farti trovare sul Web? Noi ti offriamo gli strumenti giusti. Dati, strumenti e diagnosi per un sito web efficace e ottimizzato per Google. Accedi a Strumenti per i Webmaster Strumenti per i Webmaster
Centro webmaster Google