CS
AUTONOM - Marian Mazur, Jakościowa teoria informacji, 1970.
xfeWv.png (1369×998)
Are you interested in a Computer Science course in which you will build your own computer (in a simulator), your own assembly language, compiler, operating system, and an application on top of all this? If you are already excited then this is just the course for you ! In a typical Computer Science program, we learn many key topics such as algorithms, computer architecture, operating systems, compilers, software engineering, etc.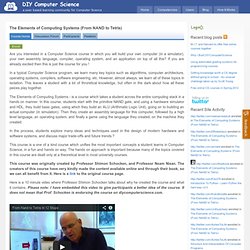 The Elements of Computing Systems (From NAND to Tetris) - Do It Yourself Computer Science