C++
libsigc++ -- The Typesafe Callback Framework for C++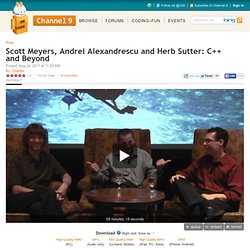 I was able to attend C++ and Beyond 2011 and it was a tremendous experience. The technical depth and C++ goodness was profound and lasted for 3 whole days (and two evenings). Thanks Andrei Alexandrescu , Scott Meyers and Herb Sutter for allowing me to crash your affair with my camera - which was perhaps too big and too advanced for the likes of me - still, I was abe to capture some great content, the first of which is this one: a C9 conversation with Scott, Andrei and Herb about C++ and beyond.. .
Scott Meyers, Andrei Alexandrescu and Herb Sutter: C++ and Beyond
This post contains information about some of the most useful GCC options. It is meant for people new to GCC, but you should already know how to compile, link and the other basic things using GCC; this is no introduction. If you want an introductory tutorial to GCC, just google for that . The things this article attempts to cover include (as well as a few other things): Optimization
The most useful GCC options and extensions — AntoArts
STL
Standard Template Library , STL (pol. standardowa biblioteka szablonów) – biblioteka C++ zawierająca algorytmy , pojemniki , iteratory oraz inne konstrukcje w formie szablonów , gotowe do użycia w programach. Historia [ edytuj ] Osobą w dużej mierze odpowiedzialną za architekturę tej biblioteki jest Alexander Stepanov . STL początkowo powstawała jako niezależna biblioteka rozwijana przez firmę Hewlett Packard , później większość przyjętych tam rozwiązań przeszła do biblioteki standardowej C++. Opis [ edytuj ]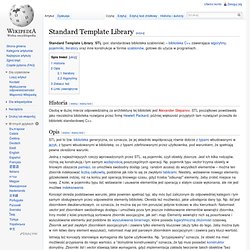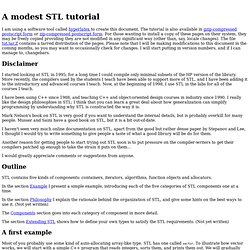 I am using a software tool called hyperlatex to create this document. The tutorial is also available in gzip-compressed postscript form or zip-compressed postscript form . For those wanting to install a copy of these pages on their system, they may be freely copied providing they are not modified in any significant way (other than, say, locale changes). The file tut.tar.Z contains a tarred distribution of the pages.
A modest STL tutorial
Table of Contents: the Standard Template Library
C/C : Optymalizacja w C/C (by Gynvael Coldwind, 2007-05-08) @ wyklady.net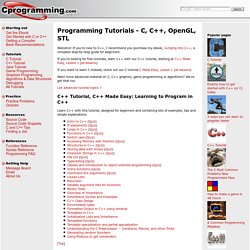 Welcome! If you're new to C++, I recommend you purchase my ebook, Jumping into C++ , a complete step-by-step guide for beginners. If you're looking for free tutorials, learn C++ with our C++ tutorial, starting at C++ Made Easy, Lesson 1 ( all lessons )
Thinking in C++ 2nd edition Volume 2
Home > Documentation > Thinking In > Thinking in C++ 2nd edition Volume 2 Thinking In C++ Volume 2: Practical Programming Bruce Eckel, President, MindView, Inc. Chuck Allison, Utah Valley State College " I'd like to congratulate the both of you for a very impressive work! Not only did I find your book to be an enjoyable and rewarding read … I was astounded by the accuracy both in terms of technical correctness and use of the language … I believe that you have attained a level of craftsmanship that is simply outstanding."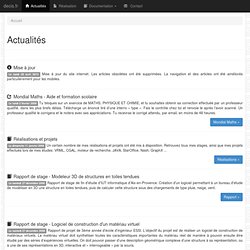 Digital Mars C, C++ and D Compilers
C++ 11 Concurrency Tutorial - Part One
C++ 11 Concurrency Tutorial Part 2