Mobile
19h06. Olivia Brunet, de Médiamétrie, ouvre le débat en parlant de mesure d'audience . L'institut lance le " panel tablettes iPad " : " on est partis du constat qu'il n'avait pas de suivi des usages dans la durée.
#MoMo : les nouveaux usages des tablettes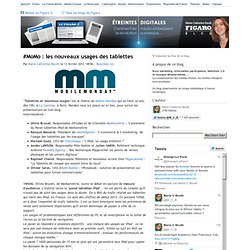 Blog Apr. 1, 2013 | Share Multi-Platform Media Usage is Not a Zero Sum Game Conventional wisdom would suggest that in this age of media fragmentation, usage of multiple devices – TVs, PCs, smartphones, and tablets – would inevitably cannibalize one another. After watching hours of TV, the last thing you'd want to do is pick up your tablet, stare at another screen, and start surfing the web, right? But in a similar fashion... Read more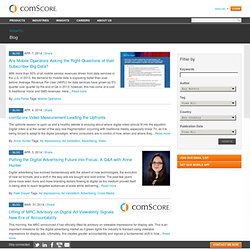 Independent Report Includes Push Notifications as Part of Its... -- PORTLAND, Ore. and SAN FRANCISCO, Jan. 10, 2012
PORTLAND, Ore. and SAN FRANCISCO , Jan. 10, 2012 /PRNewswire/ -- Urban Airship, the leading platform provider for messaging to mobile devices, was included in a report by Forrester Research, Inc. today titled "The New Messaging Mandate." The report recommends best practices for mobile marketers seeking to do a better job at integrated messaging and communications to their customers via mobile.