Wordsmithing
Books that will induce a mindfuck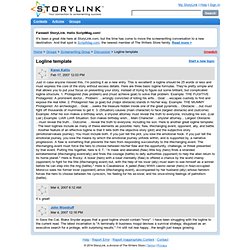 Farewell StoryLink. Hello ScriptMag.com! It's been a great ride here at StoryLink.com, but the time has come to move the screenwriting conversation to a new destination.
Logline template
When George Plimpton asked Ernest Hemingway what the best training for an aspiring writer would be in a 1954 interview, Hem replied, "Let's say that he should go out and hang himself because he finds that writing well is impossibly difficult. Then he should be cut down without mercy and forced by his own self to write as well as he can for the rest of his life. At least he will have the story of the hanging to commence with." Today, writing well is more important than ever. Far from being the province of a select few as it was in Hemingway's day, writing is a daily occupation for all of us — in email, on blogs, and through social media.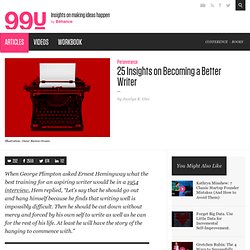 25 Insights on Becoming a Better Writer
Worst analogies ever!
FAQ
Book Marketing Bestsellers Blog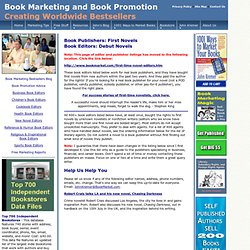 Free List of 400 Book Publishers and Book Editors for First Fiction and First-Time Novelists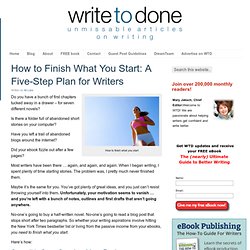 How to Finish What You Start: A Five-Step Plan for Writers
How to finish what you start Do you have a bunch of first chapters tucked away in a drawer – for seven different novels? Is there a folder full of abandoned short stories on your computer? Have you left a trail of abandoned blogs around the internet?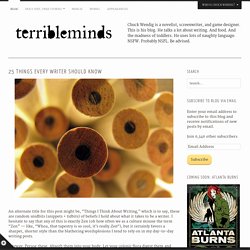 25 Things Every Writer Should Know
An alternate title for this post might be, "Things I Think About Writing," which is to say, these are random snidbits (snippets + tidbits) of beliefs I hold about what it takes to be a writer. I hesitate to say that any of this is exactly Zen (oh how often we as a culture misuse the term "Zen" — like, "Whoa, that tapestry is so cool, it's really Zen"), but it certainly favors a sharper, shorter style than the blathering wordsplosions I tend to rely on in my day-to-day writing posts.
Kindle Publishing for Blogs
Extended Traveller Character Motivations
Kindle Direct Publishing: Bookshelf
31 Brilliant examples of Engrish fails... from mikepattonfan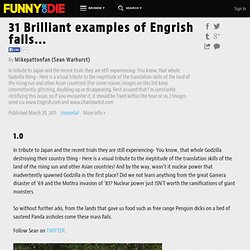 In tribute to Japan and the recent trials they are still experiencing- You know, that whole Godzilla destroying their country thing - Here is a visual tribute to the ineptitude of the translation skills of the land of the rising sun and other Asian countries!
49 Free Online Reference Tools for Freelance Writers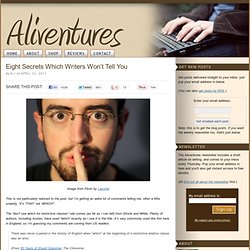 Image from Flickr by Lazurite
Eight Secrets Which Writers Won't Tell You
Random thoughts from 25-35 year olds - helen's posterous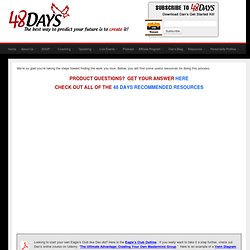 48 Days Worksheets
We're so glad you're taking the steps toward finding the work you love. Below, you will find some useful resources for doing this process. Product Questions?