Storytime Corner
Shocking: Why pink is just a figment of your imagination | Space, Military and Medicine. Look at all that.... minus green?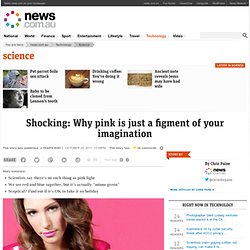 Source: Sunday Mail (SA) PINK doesn't exist. If you can pronounce correctly every word in this poem, you will be speaking English better than 90% of the native English speakers in the world. « SEXY. (This is not my poem!)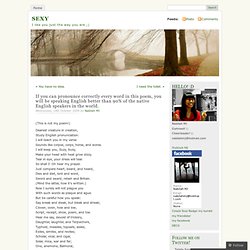 Dearest creature in creation, Study English pronunciation. I will teach you in my verse Sounds like corpse, corps, horse, and worse. Dave Grohl: 'I was ready to quit music. It felt to me like music equalled death. I started praying…' – interview | Music | The Observer. Camper vans are great, says Dave Grohl, stretching out in the back of one in a car park in Los Angeles.
"Great," he says, "until you have to empty the fucking tank. " He means the bit under the in-vehicle toilet, and having mentioned it immediately screws up his face – grimace distorting the mouth-framing goatee, frown sending out ropes of shoulder-length hair from behind his ears. It's not that the 42-year-old musician is imagining having to clear out any sewage himself. Top 20 Motivational Pictures | Get Hench Now! 6 Insane Coincidences You Won't Believe Actually Happened. Ohio is Full of Astronauts Quick: What's special about Ohio?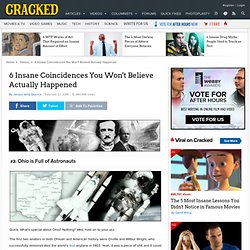 Nothing? Well, hold on to your ass. The first two aviators in both Ohioan and American history were Orville and Wilbur Wright, who successfully demonstrated the world's first airplane in 1903. Listen: Samuel L. Jackson narrates "Go the Fuck to Sleep" Author Adam Mansbach, after repeated struggles to get his two-year-old daughter to fall asleep, once sent out a jokey Facebook post reading: "Look out for my forthcoming children's book, 'Go the Fuck to Sleep.'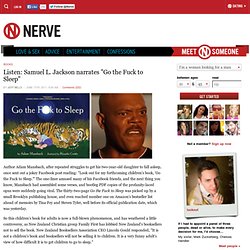 " The one-liner amused many of his Facebook friends, and the next thing you know, Mansbach had assembled some verses, and bootleg PDF copies of the profanity-laced opus were suddenly going viral. The thirty-two-page Go the Fuck to Sleep was picked up by a small Brooklyn publishing house, and even reached number one on Amazon's bestseller list ahead of memoirs by Tina Fey and Steven Tyler, well before its official publication date, which was yesterday. So this children's book for adults is now a full-blown phenomenon, and has weathered a little controversy, as New Zealand Christian group Family First has lobbied New Zealand's booksellers not to sell the book.
2011-05-12-Hobbes-And-Bacon_002.png (PNG Image, 760x1896 pixels) An old lady's inspirational story.
---