Hobby
Wii Robot? Now that everybody and they momma are doing motion controls, what's Nintendo to do next? Ask designer Florence Boob (yes for serious) and you'll get the Wii-Robot. OMG Wii-bot! Working under the assumption that everybody and they momma loves robots (true), the Wii-Robot is the little R2-D2 companion you've always wanted. It flies and follows you around, inviting you to play games it projects onto any flat surface.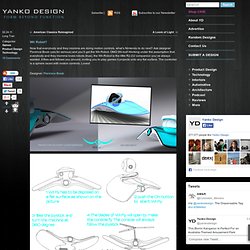 Wii Robot Concept by Florence Boob
I admit, I tend to change my mind frequently. My husband would call it fickle. I just call it "ever evolving design tastes."
How To Sew A Throw Pillow Cover In 10 Easy Steps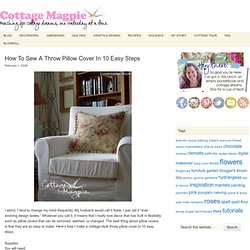 This was easier than I thought it would be. One of Betsy's goals for the year was to ditch some of our standard cleaners that we use around the house and make them! Honestly, I was a bit skeptical about this project mainly because I wasn't sure that homemade cleaners would really get the job done. And my lovely wife is a bit of a neat freak so there's no way she would use something that didn't perform well. So a couple of weekends ago she went out and bought a few staple ingredients and some empty spray bottles and we spent a few minutes mixing up four different homemade cleaners that have since replaced 90% of the cleaners we use around the house. For the last few weeks we've been using them now and I've been so impressed by how well they are working, I thought I'd share them all with you in case any of you are interested in ditching the chemicals.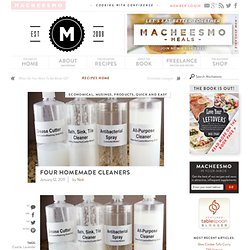 Ask, and Ye shall receive.
First of all I want to thank everyone for all of the fabulous suggestions posted in the comments last week. One recurring theme in the e-mails and comments I've recieved about recycled clothing is "I want to make my old clothes into new clothes, but I don't know how to get started." That's where this post comes in.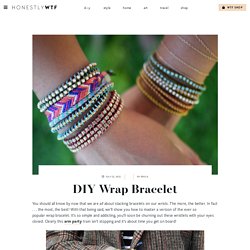 You should all know by now that we are all about stacking bracelets on our wrists. The more, the better. In fact . . . the most, the best! With that being said, we'll show you how to master a version of the ever so popular wrap bracelet. It's so simple and addicting, you'll soon be churning out these wristlets with your eyes closed.