Genealogy Software
RootsMagic - Software to Unite Families. Incline Software, LC Company Page. Incline Software, LC was founded in 1994 with a mission to create the best family tree software available.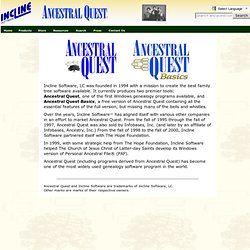 It currently produces two premier tools: Ancestral Quest, one of the first Windows genealogy programs available, and Ancestral Quest Basics, a free version of Ancestral Quest containing all the essential features of the full version, but missing many of the bells and whistles. Over the years, Incline Software™ has aligned itself with various other companies in an effort to market Ancestral Quest. From the fall of 1995 through the fall of 1997, Ancestral Quest was also sold by Infobases, Inc.
(and later by an affiliate of Infobases, Ancestry, Inc.) GeneWeb. Address of this page: Description Cliquez sur un des drapeaux ci-dessous pour une description détaillée: Click on one of the flags below for a detailed description: Version.
Ages! Genealogy Software - daubnet.com. Take a look at the Ages!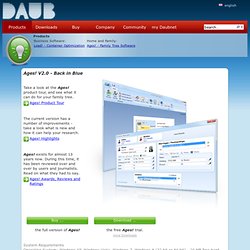 Product tour, and see what it can do for your family tree. Ages! Product Tour The current version has a number of improvements - take a look what is new and how it can help your research. Gramps. Genealogy Software - GenoPro.
---