Education
Brain Calisthenics Help Break Down Abstract Ideas, Researchers Say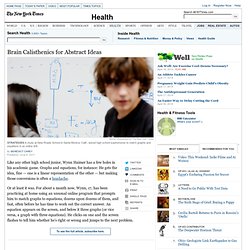 Michal Czerwonka for The New York Times STRATEGIES A study at New Roads School in Santa Monica, Calif., asked high school sophomores to match graphs and equations in an online drill. How does a student learn from gut insinct?
What Smart Students Know
Education (Getty Museum)
Welcome to the Social Media Classroom and Collaboratory. It's all free, as in both "freedom of speech" and "almost totally free beer." We invite you to build on what we've started to create more free value. The Social Media Classroom (we'll call it SMC) includes a free and open-source (Drupal-based) web service that provides teachers and learners with an integrated set of social media that each course can use for its own purposes—integrated forum, blog, comment, wiki, chat, social bookmarking, RSS, microblogging, widgets , and video commenting are the first set of tools. The Classroom also includes curricular material: syllabi, lesson plans, resource repositories, screencasts and videos.