Sharepoint
SPBasePermissions Enumeration (Microsoft.SharePoint)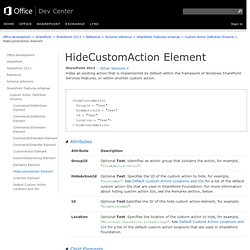 HideCustomAction Element
Hides an existing action that is implemented by default within the framework of Windows SharePoint Services Features, or within another custom action. Note that HideCustomAction IDs are not limited to specific default SharePoint Foundation custom actions. You can also hide custom actions that you create yourself when you write your own features.
One of my most popular blogs is Adding a Banner to your SharePoint but is for SharePoint 2007. Here is how to do it for SharePoint 2010. Banner Image You need to create a banner at the top of the page. The image by default is replicated so I have created a large wide image which is 2500px by 100px you won't see the replication. Building the CSS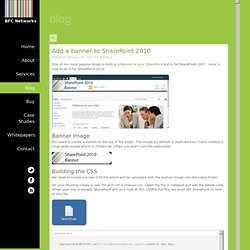 Add a banner to SharePoint 2010 | BFC Networks
It is very easy to replace the top left (orange) default SharePoint logo in a site by your own. Just prepare a small image in .jpg, .gif or .png format with reasonable dimensions (the default icon is 32×32) and upload it to a library where all site users have, at least, read permissions. For a top site in a site collection, that could be the Style Library which already has an Images folder. In sub-sites, you can either use the Site Assets or Site Pages or any existing or new library with Read permission for all. Make a note of the image URL (right-click and copy shortcut or mouse over and note the status bar). To use the logo, go to Site Actions, Site Settings and then click the (under Look and Feel).
SharePoint 2010 Help » site logo
Calendar Colour Coding in SharePoint - Orbit One Blog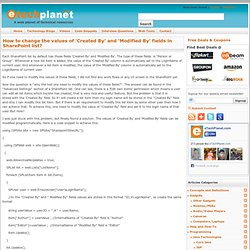 How to change the values of 'Created By' and 'Modified By' fields in SharePoint list?
Each SharePoint list by default has these fields 'Created By' and 'Modified By'. The type of these fields is "Person or Group". Whenever a new list item is added, the value of the 'Created By' column is automatically set to the LoginName of current user. And whenever a list item is modified, the value of the 'Modified By' column is automatically set to the LoginName of current user. So if one need to modify the values of these fields, I did not find any work flows or any UI screen in the SharePoint yet. Now the question is "why the hell one need to modify the values of these fields?".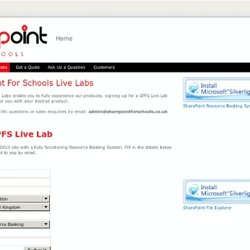 ​​​​​​ About SharePoint For Schools Live Labs The SharePoint for Schools Live Labs enable you to fully experience our products, signing up for a SPFS Live Lab creates a new SharePoint Site for you with your desired product. Gap You can contact us for any specific questions or sales enquiries by email: admin@sharepointforschools.co.uk
LiveLabs - Home
**Links updated 5/10/2012** This page contains a list of resources useful for SharePoint 2010 Branding, User Interface, Design and Web Content Management solutions (Right click to open link in a new window) As I was researching SharePoint 2010 Design for our new book Beginning SharePoint Designer 2010 (wrox), I collected several links to good resources. I hope you find them as helpful as I did.
SharePoint 2010 Branding and Customization Resources « Branding « Sharepoint « The SharePoint Muse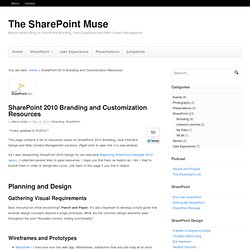 Announcements "Gotchas" On SharePoint 2010 Site Pages | Views from Veronique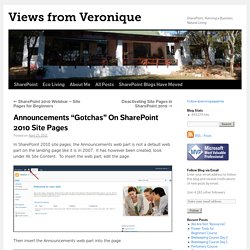 In SharePoint 2010 site pages, the Announcements web part is not a default web part on the landing page like it is in 2007. It has however been created, look under All Site Content. To insert the web part, edit the page. Then insert the Announcements web part into the page. Don't delete the default welcome message while the page is still in edit mode. If you do that, then save the page, the whole web part is deleted and you have to re-insert it.
So, I have gotten a lot of great feedback within the comments of my blog. I have heard from quite a few people that they either just been tasked with branding SharePoint and don't know where to start. Or they have a basic idea about SharePoint, CSS and HTML but don't know where or how to reference the custom CSS. This is a long post so hold on to your hat! Within this post I am going to focus this topic on SharePoint 2010 but the approach could be used either for 2007 or 2010. Step 1: The first thing that you have to consider is how the SharePoint site that you are branding is configured?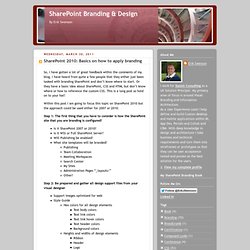 SharePoint 2010: Basics on how to apply branding
Ten of the best - SharePoint School websites - Education
As those of you who know me personally will be aware two of my passions are technology and data! For a History teacher this is fairly unusual but these are also two of my key roles in school as an Assistant Headteacher- e-learning and data. During the last week I have been very busy making sure all our systems will be ready with Windows 7 installed throughout the site and three refurbished computer rooms (two of which the contractor still hasn't finished).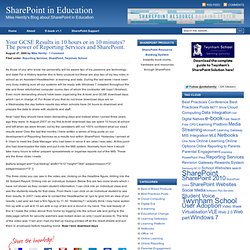 SharePoint in Education - Mike Herrity's Blog about SharePoint in Education
Guest post by Chris Mckinley- Senior SQL/SharePoint Developer An occasional day in the Systems Office at Twynham School The System's phone rings… "Hello IT."
SharePoint in Education - Mike Herrity's Blog about SharePoint in Education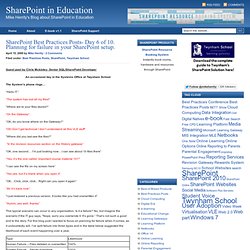 SharePoint in Education - Mike Herrity's Blog about SharePoint in Education
How many schools are now s ending text messages to parents? This seems to be a growing trend within schools largely to inform parents of absence. For me the real power of text messages is not only in absence reporting but in updating parents on other key information such as reports being sent home or a parents evening. Twynham School currently has an SMS solution which we have used but this is not in SharePoint. Over the last 3 months we have been looking at what options exist for integrating text messaging and in my email inbox today could be the answer. S P Web parts contacted me to announce that they had created an SMS solution which runs through SharePoint.
Synopsis You maybe someone who is already able to utilise SharePoint Designer 2010 to create and customise a site's lists, views and web pages. This course will provide you with the skills and knowledge needed to extend the site user interface to allow end users to work on specific forms, use external data, or automate business processes.
Sharepoint Designer 2010 Level 2 | GBdirect Training UK
SharePoint in Education - Mike Herrity's Blog about SharePoint in Education
Over the last two days we have been talking about producing online content to support and engage students. Having produced a working GCSE Revision Gateway and spent time talking with 30+ students about design was this enough to ensure success? At this stage we needed to identify if students were using the sites we set up and what they thought about them. One of the best ways to find out what students think about absolutely anything is to set up a SharePoint Survey. In SharePoint 2007 there is a great survey function which we use extensively to get feedback from staff and students at Twynham School. I will not spend any time going through how you make a survey as this has been done elsewhere.
The SPTechBlog: Moving Web Parts in SharePoint 2010
By Ryan Keller By now you've probably been working with SharePoint 2010 and enjoying some of the new features. After all, some great advancements have been made in both the administrative and end-user aspects of SharePoint this go-around. But with some of those advancements come a few quirks that take some getting used to. This article discusses one of the quirks end users might run across when building a page using Web parts, and an easy workaround to solve it.
SharePoint 2010: Basics on how to apply branding
lauracurtis's posterous - Filed under 'sharepoint'
Keyboard shortcuts - Excel - Microsoft Office