Samples
Anza. 1.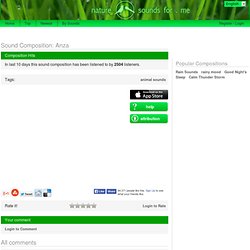 Choose a sound In order for nature sounds to start playing choose a sound from drop-down box for one channel and drag the volume slider up. 2. Add more sounds You can add more nature sounds to composition by choosing other sounds in other channels. Council installs talking camera telling residents they're not allowed in their own communal garden. Internet Archive: Digital Library of Free Books, Movies, Music & Wayback Machine.
Radioarchive.cc : Home. Inside LSD documentary | yourbrainondrugs.net. National Geographic produces some very good drug documentaries.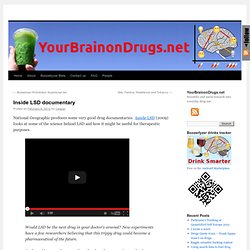 Inside LSD (2009) looks at some of the science behind LSD and how it might be useful for therapeutic purposes. Would LSD be the next drug in your doctor's arsenal? New experiments have a few researchers believing that this trippy drug could become a pharmaceutical of the future.Outlawed in 1970, the street drug developed a reputation as the dangerous toy of the counterculture, capable of inspiring either moments of genius or a descent into madness.Now science is taking a fresh look into this psychedelic world, including the first human LSD trials in more than 35 years.LSD's inventor Albert Hofmann called it medicine for the soul. The Beatles wrote songs about it.
Found Sounds. Politics. Alan Moore. Stewart Lee. Jon ronson on... | jonronson.com. Jon Ronson On...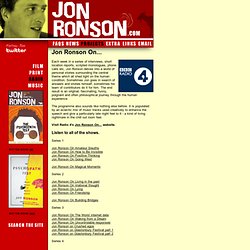 Each week in a series of interviews, short location reports, scripted monologues, phone calls etc, Jon Ronson delves into a world of personal stories surrounding the central theme which all shed light on the human condition. Sometimes Jon goes in search of answers and stories himself, sometimes his team of contributors do it for him. The end result is an original, fascinating, funny, poignant and often philosophical journey through the human experience.
Alan Watts
Timothy Leary. David Foster Wallace. Terence McKenna. A mini-doc about the Minimoog. Here's a cute lil' doc about the origins and early use of the wondrous Minimoog from the company that brought it into existence.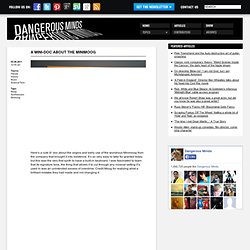 It's so very easy to take for granted today but this was the very first synth to have a built-in keyboard. I was fascinated to learn that its signature tone, the thing that allows it to cut through any musical setting it's used in was an unintended excess of overdrive. Credit Moog for realizing what a brilliant mistake they had made and not changing it. Bonus: Two of my favorite funky Minimoog workouts, firstly it's The Harlem Buck Dance Strut from Les McCann's 1973 LP Layers: Max Mathews, electronic music pioneer, RIP.
Electronic music pioneer Max V.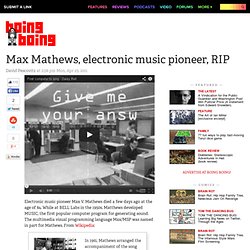 Mathews died a few days ago at the age of 84. While at BELL Labs in the 1950s, Matthews developed MUSIC, the first popular computer program for generating sound. The multimedia visual programming language Max/MSP was named in part for Mathews. From Wikipedia: Excellent Russell Brand interview on celebrity culture by BBC's Newsnight. I'm very curious to find out what my American cousins make of Russell Brand.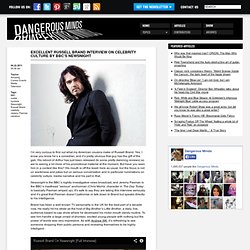 Yes, I know you know he's a comedian, and it's pretty obvious that guy has the gift of the gab. His reboot of Arthur has just been released (to some pretty damning reviews) so we're seeing a lot more of his promotional material at the moment. But have you seen him in a context like this? You are listening to Deep Thought. OK, But Where's the Priest? Alex Jones Says TVs and Light Bulbs Are Programmed to Kill Everyone. Sound.
About UbuWeb Sound Originally focusing on Sound Poetry proper, UbuWeb's Sound section has grown to encompass all types of sound art, historical and contemporary.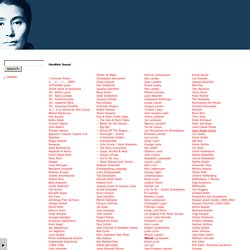 Beginning with pioneers such as Guillaume Apollinaire reading his "Calligrammes" in 1913, and proceeding to current practitioners such as Vito Acconci or Kristin Oppenheim, UbuWeb Sound surveys the entire 20th century and beyond. Categories include Dadaism, Futurism, early 20th century literary experiments, musique concrete, electronic music, Fluxus, Beat sound works, minimalist and process works, performance art, plunderphonics and sampling, and digital glitch works, to name just a few. As the practices of sound art continue to evolve, categories become increasingly irrelevant, a fact UbuWeb embraces. Tiny Little Miss Perky Palmetto Personality.
Rita - erotica. Golden Throats - Peter Wyngarde. WhoSampled - Discover and Discuss Music Samples, Remixes and Cover Songs. CcMixter - Welcome to ccMixter.
---