Essays
This year saw the 30th anniversary of the death of one of the most influential writers of all time, ... This year saw the 30th anniversary of the death of one of the most influential writers of all time, the iconic Philip K. Dick. Although virtually unknown outside of science fiction circles, during his lifetime Dick's intriguing philosophy on the nature of reality has become a staple of the modern Hollywood movie. Huge blockbusters such as Total Recall, Minority Report, The Adjustment Bureau, Blade Runner, A Scanner Darkly and Paycheck were loosely based directly on his novels or short stories, and movies such as The Eternal Sunshine of the Spotless Mind, Memento, The Matrix, The Truman Show and Inception all owe a huge debt to his vision.
The Fascinating Story of the Man Who Remembered the Future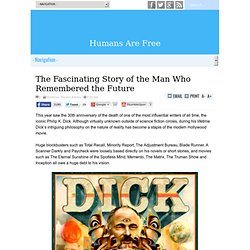 Philip Purser-Hallard on Philip K Dick and drugs | Film | The Guardian
Reality and the 3D Printed Worlds of Philip K. Dick
Very few sci-fi authors have as colourful a story as Philip K. Dick. Not only was he tremendously prolific, churning out 44 novels and 121 short stories in his lifetime — he died in 1982 aged 53 — but he was famously prone to hallucinations and paranoid delusions, even having something of a religious experience that revealed his son had a fatal birth defect.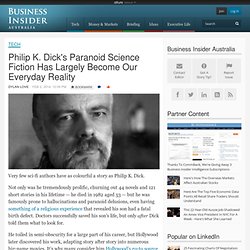 Philip K. Dick's Paranoid Science Fiction Has Largely Become Our Everyday Reality
The Three Stigmata of Palmer Eldritch: Book Review | The Inquisitor
It's become fashionable in recent years to hail Philip K. Dick as the world's greatest writer of science fiction. But why stop there?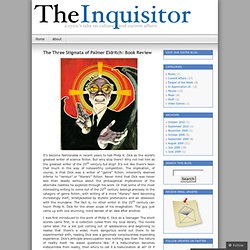 Philip K. Dick Scanned Our Brains, Darkly
Philip K. Dick Scanned Our Brains, Darkly Art by David A. Johnson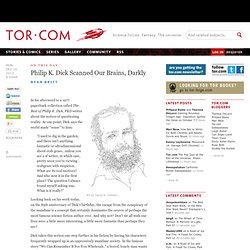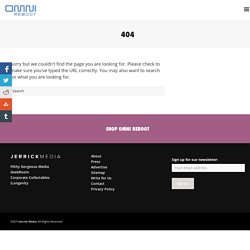 How Am I Not Myself? - OMNI Reboot
This exploration of Philip K. Dick's neurological condition and potential autism is an edited version of a longer essay, taken from a book-in-progress about neurodiversity, culture, technology, and "extra-consensual perception," by Jasun Horsley. The full, unedited, piece can be read here. Philip K.
Even though an American is four times more likely to be killed by lightning, there's no greater bogeyman in the Anglo-American body politic than the homicidal terrorist. It beggars belief that something so statistically insignificant (it has been suggested that the odds of death at the hands of a jihadist, or the like, is one-in-20 million) has been manipulated to trump fundamental freedoms – not just in the US, but globally. No matter that salt, sugar and fat contribute to a one-in-467 chance of dying from heart disease, or that, approximately, ten times the number of people that died in 9-11 are slain annually as a result of gun violence - it's counter-terrorism that sets the real agenda.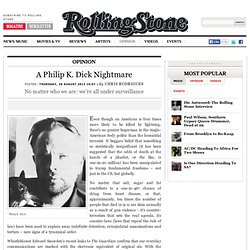 A Philip K. Dick Nightmare - Rolling Stone South Africa
Philip K. Dick's Visions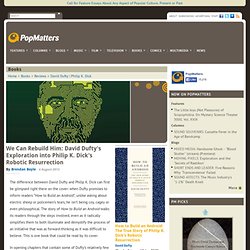 The difference between David Dufty and Philip K. Dick can first be glimpsed right there on the cover: when Dufty promises to inform readers "How to Build an Android", unlike asking about electric sheep or policemen's tears, he isn't being coy, cagey or even philosophical. The story of How to Build an Android walks its readers through the steps involved, even as it radically simplifies them to both illuminate and demystify the process of an initiative that was as forward-thinking as it was difficult to believe.
We Can Rebuild Him: David Dufty's Exploration into Philip K. Dick's Robotic Resurrection
Richard (RJ) Eskow: The Truman Show Economy (With a Nod to Philip K. Dick)
A Northern Ireland county made news this week when it literally created a false front of prosperity for dignitaries in town for the G8 conference. The Irish Times reports that County Fermanagh spent roughly £300,000 ($456,000 at today's exchange rates) to conceal the shuttered storefronts and empty buildings left behind by economy-killing austerity cuts. They were too close to the "sumptuous" resort where the meeting's being held, says the Times : "The (boarded-up) butcher's business has been replaced by a picture of a butcher's business ... A small business premises has been made to look like an office supplies store ... billboard-sized pictures of the gorgeous scenery have been located to mask the occasional stark and abandoned building site or other eyesore."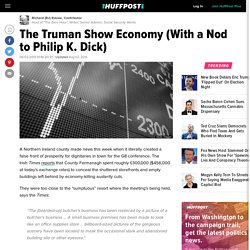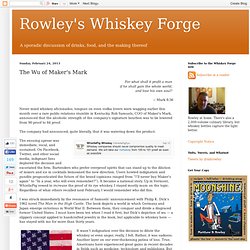 For what shall it profit a man if he shall gain the whole world, and lose his own soul? ~ Mark 8:36 Never mind whiskey aficionados; tongues on even vodka lovers were wagging earlier this month over a rare public relations stumble in Kentucky. Rob Samuels, COO of Maker's Mark, announced that the alcoholic strength of the company's signature bourbon was to be lowered from 90 proof to 84 proof.
Rowley's Whiskey Forge: The Wu of Maker's Mark
The Business Rusch: The Gift That Keeps On Giving « Kristine Kathryn Rusch
I have been down the rabbit hole, and it is labeled "Philip K. Dick." I had a simple question: Who benefits directly from the Philip K. Dick estate? I found websites, wikipages, arguments, lawsuits over movies, and all kinds of other things, none of which directly answered my question. Until I located an interview conducted by the Library of America with Jonathan Lethem and Laura Leslie.
I'm at a conference at San Francisco State all weekend and I'm surrounded by Dickheads. One hundred and thirty of them, to be precise — a sellout crowd. These are not your garden-variety Dickheads. They're a serious, scholarly bunch of fans, writers, filmmakers, doctoral candidates, university professors, all passionately dedicated to the life and works of Philip K. Dick. PKD, of course, is the legendary science-fiction writer usually designated as a cult author.
Philip K. Dick was a friend of mine - Books
Black Iron Prison - Page 1
Philip K. Dick, Sci-Fi Philosopher, Part 1
The Stone is a forum for contemporary philosophers and other thinkers on issues both timely and timeless. This is the first in a three-part series. Part 1: Meditations on a Radiant Fish When I believe, I am crazy. When I don't believe, I suffer psychotic depression. — Philip K.
A Science Fiction Story That Predicted The Manner of Western Suicide
By Barry Rubin For years I've been trying to find a science fiction story I read a long, long time ago which describes the contemporary situation in Western civilization. And now, thanks to a helpful reader, I can tell you about it.
What is reality? Philip K. Dick
What is reality? Philip K. Dick
Strange Horizons Articles: More Real Than Real: Philip K. Dick's Visionary Posthumanism , by Alex Lyras
Philip K. Dick and the Pleasures of Unquotable Prose
Culture > The Sunday Hangover with Warren Ellis
Exegesis Afterword
How Phil K Dick took over the world
Philip K. Dick: Speaking with the Dead
PKD Invents 21st Century
A Visionary Among the Charlatans
Philip K. Dick's Divine Interference, by Erik Davis
Reality's Hidden 'Minority Report' - The Political Gnosis of Philip K. Dick
TIM BOUCHER RAW! » L. Ron Hubbard vs. Philip K. Dick
A Scanner Darkly:  Philip K. Dick's thematic obsessions | Books | Wrapped Up In Books
Why Jonathan Lethem Keeps Coming Back To Philip K. Dick
Philip K Dick - Master of Pulps
Philip K. Dick Meet George W. Bush