Cant control the smuggling
New Drug Tunnel Connecting Arizona And Mexico Discovered In Nogales. U.S. police uncovered yet another underground tunnel used to smuggle drugs between Arizona and Mexico.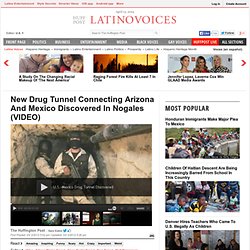 Authorities in the U.S. and Mexico raided the passageway from both sides of the border on Thursday, Nogales International reported. Inside the 2-by-2-foot tunnel, Mexican police found and seized 550 pounds of marijuana. No arrests were made. The raid was a result of the joint efforts of the U.S. DEA Agents Allowed Cocaine-Smuggling.
Attempting to infiltrate a powerful Mexican drug cartel, US DEA agents assisted traffickers smuggling millions of dollars around the world, and helped at least one shipment of cocaine make its way through the US and into Spain.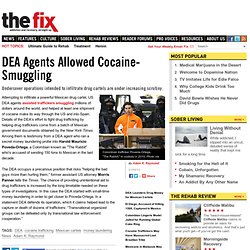 Details of the DEA's effort to fight drug trafficking by helping drug traffickers come from a batch of Mexican government documents obtained by the New York Times. Among them is testimony from a DEA agent who ran a secret money laundering probe into Harold Mauricio Poveda-Ortega, a Colombian known as "The Rabbit" who's accused of sending 150 tons to Mexican in the last decade.
Inside Seized Drug-Smuggling Submarines - Photo Essays. Mexico drug violence: 9 hanged, 14 decapitated in border city of Nuevo Laredo   Airport screeners arrested; authorities say they allowed drug smuggling - The Federal Eye. Posted at 06:00 AM ET, 04/26/2012 Apr 26, 2012 10:00 AM EDT TheWashingtonPost Two former and two current airport security screeners were arrested this week on federal charges of drug trafficking and bribery for smuggling large bundles of cocaine and other illegal drugs through security checkpoints at Los Angeles International Airport in exchange for cash, authorities said.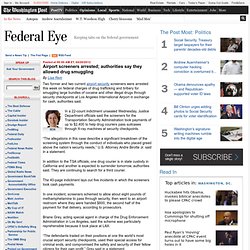 In a 22-count indictment unsealed Wednesday, Justice Department officials said the screeners for the Transportation Security Administration took payments of up to $2,400 to help drug couriers pass suitcases through X-ray machines at security checkpoints. TSA officers charged in drug smuggling conspiracy. Duane Eleby, a suspected drug courier, was all set to sneak 10 pounds of cocaine through a security checkpoint at Los Angeles International Airport last February with the help of a former Transportation Security Administration employee and a screener.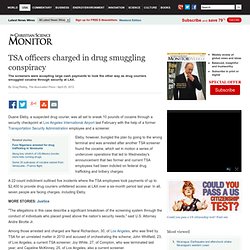 Skip to next paragraph Subscribe Today to the Monitor.
---