Webdesign
Portfolio. Blog. Inspiration. Css. Creativity. Resources. Awards. Grid—A—Licious™: Just another WordPress weblog. Back in mid 2008, I created a jQuery plugin.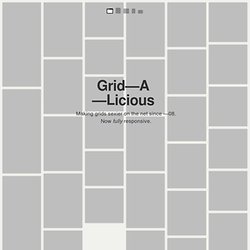 I named it Grid-A-Licious and described it as, "Divs are placed in chronological order with a special grid" because I had no clue how to explain it better. I used this script a lot and designed many sites with it during 2008. At first, people were very skeptic and confused on how to read the grid, and thought this kind of layout belonged in real papers. This reaction slowly faded away once the layout became more and more popular when different developers and designers started to create their own script's interpretation of the floating grid layout effect. Not saying it was based on my work or script, because there were a few others that brought a similar layout effect to our attention, but not necessarily distributed as a plugin.
How To Use Size, Scale, And Proportion In Web Design. Loud and soft, dark and light, big and small.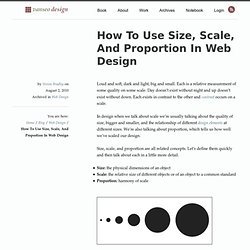 Each is a relative measurement of some quality on some scale. Day doesn't exist without night and up doesn't exist without down. How to Design a Landing Page to be Conversion Focused. Landing pages get a a bad rap.
Designers often rebel against some of the basic principles of landing pages. And clients as well as agencies often misunderstand what a landing page really is and how to make it really sing. If you're in the landing page business — as I am — you know that landing pages are really much more than they're given credit for. Debunk 1: A Landing Page is a Page. iA. Helps you build good looking and functional web sites.
---