Microblogging
Education 2.0 - The Edmodo Blog - Free Private Microblogging for
Home
Lokalu.com - bliżej przyjaciół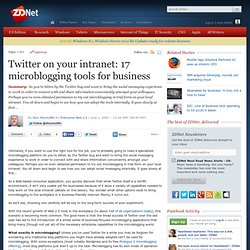 Ultimately, if you want to use the right tool for the job, you're probably going to need a specialized microblogging platform.So you're bitten by the Twitter bug and want to bring the social messaging experience to work in order to connect with and share information conveniently amongst your colleagues. Perhaps you've even obtained permission to try out microblogging in trial form on your local intranet. You sit down and begin to see how you can adopt social messaging internally. It goes slowly at first...
Twitter on your intranet: 17 microblogging tools for business |
Can we use Twitter for educational activities?