Firefox
ScreenSnapr » An Instant Screen Shot Application (for Windows)
Pict Uploader - szybkie i efektywne wykonywanie screenshotów - L
Podczas pracy nad różnego typu projektami często wykonujesz screenshoty i umieszczasz np. w prezentacji. Posługiwanie się najpowszechniejszą metodą, którą jest wciśnięcie klawisza Print Screen nie zawsze się jednak sprawdza. Bardzo prostym i łatwym w obsłudze rozszerzeniem, które sprawi, że robienie zrzutów ekranu będzie przebiegało szybciej jest Pict Uploader. Pozwala on za pomocą jednego kliknięcia zrobić screenshota, którego możesz umieścić na stronie pict.com, gdzie zarchiwizujesz w ten sposób wykonane pliki graficzne.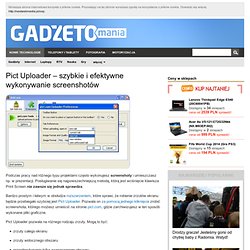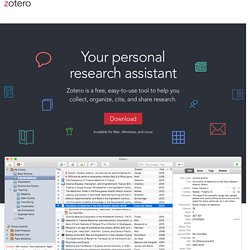 Cite perfectly. Whether you need to create footnotes, endnotes, in-text citations, or bibliographies, Zotero will do all the dirty work for you, leaving you free to focus on your writing. Create citations in Word and OpenOffice without ever leaving your word processor and add references to an email, a Google Doc, or some other editor simply by dragging one or more references out of Zotero. Always in style.
NetVideoHunter is a Firefox add-on that helps you to download videos and music from almost any video-sharing sites. You viewing this page with Firefox, but your version is unsupported by NetVideoHunter, try to download newer version of the Firefox browser, or you can try to install to the current version, but it's not sure work. You viewing this page with Firefox, so you can install NetVideoHunter add-on by clicking the Install button below. You aren't viewing this page in the Firefox browser so you can't install the NetVideoHunter add-on. Get Firefox and come back to this page and click the install button.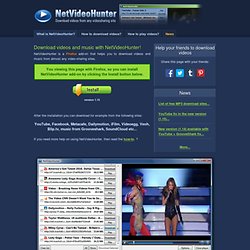 ► Download Youtube Music or Video from any video site for free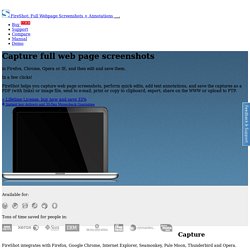 Capture FireShot integrates with Firefox, Google Chrome, Internet Explorer, Seamonkey, and Thunderbird. By doing this, FireShot can capture web pages entirely providing a high quality output. It's also possible to capture a selection or just a visible part of the web page. Edit