Presse
Au PrismaLabs se prépare le futur numérique du groupe de presse
Faut-il encore présenter Prisma Presse, qui, avec 23 magazines (Femme Actuelle, Voici,Télé Loisirs, Géo, VSD…) diffusés chaque année à 222 M d'exemplaires, revendique la deuxième place des groupes de presse magazine en France ? Au sein de ce géant de près de 900 salariés et au CA brut de 511 millions d'euros en 2010, le PrimaLabs agit comme un laboratoire d'idées et de technologies dans un secteur du print en pleines transformations et interrogations.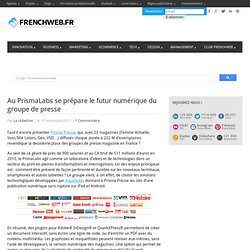 If a paywall is your only strategy, then you are doomed
A growing number of newspapers seem to be reaching for the pill labelled "paywall," in the hope that charging readers for news can help solve their revenue headaches: the Minneapolis Star-Tribune has just launched one, as has the Boston Globe, and the PostMedia network in Canada says it is going to roll them out across all of the newspapers in its national chain. Whether newspapers are doing this because the New York Times' paywall makes it look like an attractive idea or because they are growing increasingly desperate isn't clear, but even the NYT's experience shows that a paywall is still a sandbag strategy rather than a growth strategy.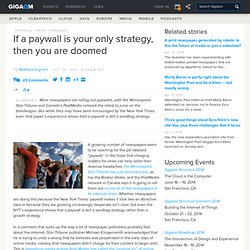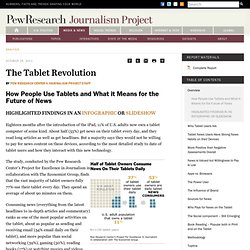 Eighteen months after the introduction of the iPad, 11% of U.S. adults now own a tablet computer of some kind. About half (53%) get news on their tablet every day, and they read long articles as well as get headlines. But a majority says they would not be willing to pay for news content on these devices, according to the most detailed study to date of tablet users and how they interact with this new technology.
La nouvelle offre d'abonnement en ligne du quotidien américain a déjà convaincu 100 000 lecteurs. Moins d'un mois après son lancement, l'offre d'abonnement en ligne du "New York Times" semble être une réussite. Le groupe média annonce avoir recruté plus de 100 000 abonnés, qui devraient générer quelque 26 millions de dollars sur un an.
Le New York Times réussit son passage au payant sur le Web