Volunteering
If I ever have a summer where I'm not in school or working my ass off, this is what I'm going to do: find the coolest volunteer opportunities around the world and go do something. I'm most interested in Europe but really I'd be willing to go anywhere!
Farm Work Abroad. Paying and Volunteer Farm Jobs Agriventure (International Agricultural Exchange Association), #105, 7710-5th St.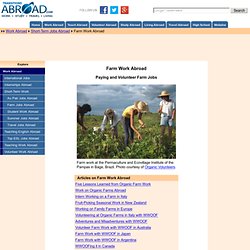 SE, Calgary, Alta T2H 2L9, Canada; 403-255-7799; usa@agriventure.com; www.agriventure.com. Farm placements of agricultural trainees for 4-12 months in Scandinavia, France, Germany, and the Netherlands, plus Japan, Australia, and New Zealand. Communicating for Agriculture Exchange Program (CAEP), 112 East Lincoln Ave., Fergus Falls, MN 56538-0677; 218-739-3241, www.caep.org. Volunteer, work, intern, organize, hire and connect. Change the world - idealist.org. Farm Internship Program at the Spannocchia Foundation. Farm Internship Program The Farm Internship Program is a hands-on learning experience during which interns work alongside our Italian farm staff to help run our diversified organic farm in rural Tuscany.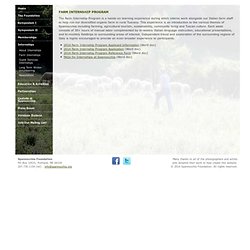 This experience is an introduction to the various themes of Spannocchia including farming, agricultural tourism, sustainability, community living and Tuscan culture. Each week consists of 30+ hours of manual labor complimented by bi-weekly Italian language instruction, educational presentations, and bi-monthly fieldtrips to surrounding areas of interest.
---