Technology Space
Physics or Fashion? What Science Lovers Link to Most [Interactive] People who are intrigued with physics are somewhat intrigued with computer science, too, but they are crazy about fashion.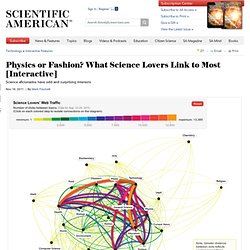 Who knew? Hilary Mason did. What topics science lovers link to the most. Hilary Mason, chief scientist at bitly, examined links to 600 science pages and the pages that those people visited next : The results revealed which subjects were strongly and weakly associated.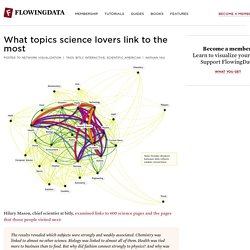 Chemistry was linked to almost no other science. Biology was linked to almost all of them. Health was tied more to business than to food. But why did fashion connect strongly to physics? NASA's Virtual Snow Globe Looks at 10 Years of the White Stuff. NASA has released a video that highlights where snow graced the Earth during every month for more than 10 years.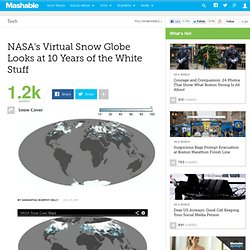 The clip starts with a snow-covered map of the Earth on February 2000 and runs all the way up until last month. The maps show observations collected by the Moderate Resolution Imaging Spectroradiometer (MODIS) on NASA's Terra satellite. Infographic Of The Day: All About The Mobile App Market | Co. Design. Everything you hear about these days is mobile-app this and mobile-app that.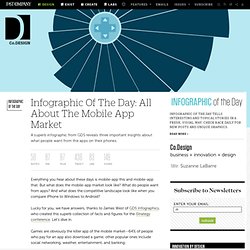 But what does the mobile-app market look like? What do people want from apps? And what does the competitive landscape look like when you compare iPhone to Windows to Android? Lucky for you, we have answers, thanks to James West of GDS Infographics, who created this superb collection of facts and figures for the iStrategy conference. Let's dive in. App-market-larger.jpeg (1000×5710) Planets Large and Small Populate Our Galaxy (Infographic) | NASA's Kepler Planet-Hunting Spacecraft | Search for Earth-like Alien Planets. Buy This Infographic as a Full-Size Poster Astronomers have discovered more than 700 alien planets beyond the solar system, and the count is rising all the time.
Some are large and hot, and others are smaller and cooler, but scientists are still on the lookout for an Earth twin. They just got closer, with the announcement Dec. 5 of a planet found by NASA's Kepler space telescope to lie in the habitable zone around its star where liquid water, and perhaps life, could exist. You can purchase a 20"x60" poster of this SPACE.com infographic on high-quality 14G Photo Paper from the SPACE.com store here: Buy Poster Embed: Paste the code below into your site. How Much Americans Spend on Electronics [INFOGRAPHIC] Think you've got bad gadget spending habits?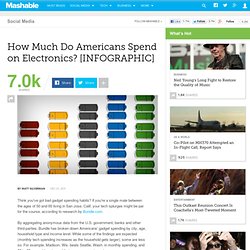 If you're a single male between the ages of 50 and 65 living in San Jose, Calif. your tech splurges might be par for the course, according to research by Bundle.com. By aggregating anonymous data from the U.S. government, banks and other third-parties, Bundle has broken down Americans' gadget spending by city, age, household type and income level. While some of the findings are expected (monthly tech spending increases as the household gets larger), some are less so. For example, Madison, Wis. beats Seattle, Wash. in monthly spending, and 50 to 65-year-olds outspend their younger counterparts, on average.
Android Market Surpasses 10 Billion Downloads. Google's celebrating a pretty big app market milestone: 10 billion apps served...er..downloaded.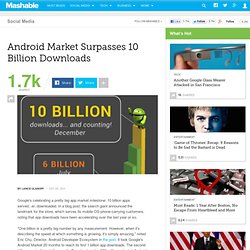 In a blog post, the search giant announced the landmark for the store, which serves its mobile OS-phone-carrying customers, noting that app downloads have been accelerating over the last year or so. "One billion is a pretty big number by any measurement. However, when it's describing the speed at which something is growing, it's simply amazing," noted Eric Chu, Director, Android Developer Ecosystem in the post. History of the U.S. Space Shuttle Program. Microsoft Surface. History of Apple. Apple Evolution: 30 Years in 2 Minutes. I personally am ambivalent about Macintosh as a brand, so I'll skip the PC vs Mac part and focus on the amazing evolution of computer technology and the impact of design awareness that has become part of Mac's identity.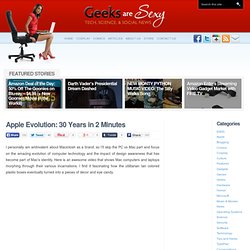 Here is an awesome video that shows Mac computers and laptops morphing through their various incarnations. I find it fascinating how the utilitarian tan colored plastic boxes eventually turned into a pieces of decor and eye candy. [Via Geekologie] Apple iPad Buyer Is a Male, Pet-Owning Gamer. While the iPad is clearly a hit among lots of demographics, from non-reading toddlers to senior citizens, there are still certain sets of people that are more likely to go out and buy one of the Apple tablets.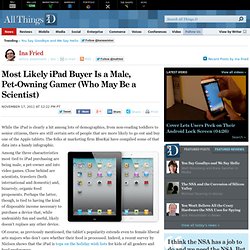 The folks at marketing firm BlueKai have compiled some of that data into a handy infographic. Among the three characteristics most tied to iPad purchasing are being male, a pet-owner and into video games. Close behind are scientists, travelers (both international and domestic) and, bizarrely, organic food proponents.
Internet of Things.
---