Health
Food. Tap Water: What are you really drinking? HealthCyberMap. Seasonal Influenza (Flu) - Reports on Flu Vaccination Coverage and Utilization. Skip directly to search Skip directly to A to Z list Skip directly to site content CDC Home CDC 24/7: Saving Lives.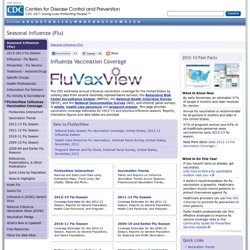 Institute for Health Metrics and Evaluation. How Drunk Can You Get At Your Office X-Mas Party? It's office-party season, which means, time to get your dranky-drank on!!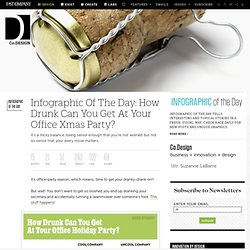 But wait! You don't want to get so sloshed you end up doinking your secretary and accidentally running a lawnmower over someone's foot. This stuff happens! Okay, maybe just on TV. Still. Health & Disease Maps. Healthy magination | GE Data Vis. Is The HPV Vaccine Safe? Remember a couple years ago when there was a big kick-off about the safety of the HPV (Human Papillomavirus) Vaccine?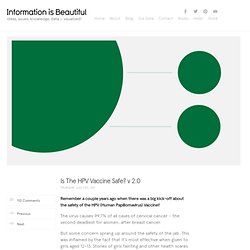 The virus causes 99.7% of all cases of cervical cancer – the second deadliest for women, after breast cancer. But some concern sprang up around the safety of the jab. This was inflamed by the fact that it's most effective when given to girls aged 12-13. Comparison of Background Radiation. Active People :: National Obesity Observatory. The Active People Survey is a large telephone survey of sport and active recreation, commissioned by Sport England.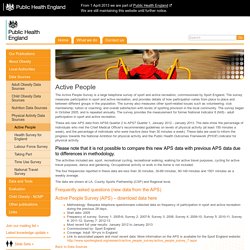 The survey measures participation in sport and active recreation, and provides details of how participation varies from place to place and between different groups in the population. The survey also measures other sport-related issues such as volunteering; club membership; tuition or coaching; and overall satisfaction with levels of sporting provision in the local community. The survey began in October 2005, and is repeated annually. Obesity data visualisation :: National Obesity Observatory. Local Authority Adult Excess Weight Prevalence Data New data are now available for prevalence of excess weight (overweight including obesity, BMI ≥25kg/m2) in adults (age 16 and over) at local authority level.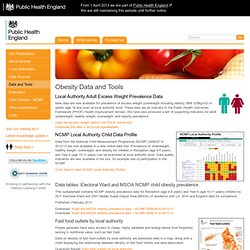 These data are an indicator in the Public Health Outcomes Framework (PHOF) Health Improvement domain. We have also produced a set of supporting indicators for adult underweight, healthy weight, overweight, and obesity prevalence. View the excess weight data in the PHOF online toolDownload the data in an Excel spreadsheet NCMP Local Authority Child Data Profile. Sport England - Small area estimates of participation.
---