Design
Fountains in Manezhnaya Square, Moscow By Thejas Jagannath@thejas009 Water has always been a popular concept among humans and continues to attract urban planning and development of cities.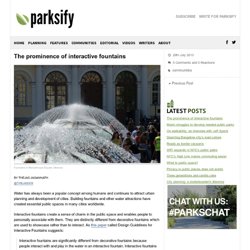 The prominence of interactive fountains | Parksify: Exploring Public Space
jul 29, 2013 FRAC centre opens in new site by jakob + macfarlane FRAC centre opens in new site by jakob + macfarlaneimage © nicolas borel all images courtesy jakob + macfarlane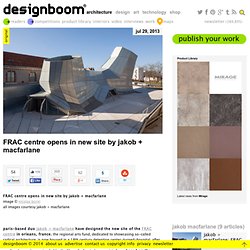 FRAC centre opens in new site by jakob + macfarlane
jul 23, 2013 faux pli gourmet supermarket extension by archinauten 'faux pli' gourmet supermarket extension by archinautenall images courtesy of archinauten
faux pli gourmet supermarket extension by archinauten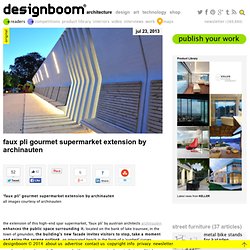 Public Space Is... on Vimeo
hot tub cinema
jul 20, 2013 hot tub cinemas pop up across london top image: hot tubbers enjoy anchorman at a screening in east london with a heatwave currently hitting the UK you'd imagine most people won't be prioritizing a trip to the cinema – but an outdoor screening viewed from the comfort of a hot tub with seven friends on the rooftop of a trendy east london venue might just twist your arm. hot tub cinema combines relaxing hot tubs, classic films and fashionable spaces across east london. attendees can purchase whole tubs to share with friends or buy individual tickets to share with fellow hot tubbers – just go easy on those gassy beers out of respect for others. hot tubs, classic films and fashionable spaces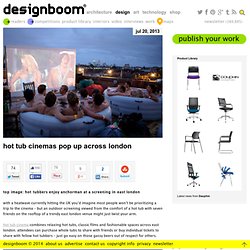 July 18, 2013 Polk Street Showdown: The Redrawn Lines, Lanes, And New Plan Having run head-on into a wall of seemingly unexpected opposition, the SFMTA was forced to revisit and redraw their plans for removing metered parking along Polk Street to make way for dedicated bike lanes from Union to McAllister. The revised project has been divided into two segments, with two different designs for Polk Street, one from Union to California and another from California to McAllister. Roughly 90% of the metered parking spaces on Polk Street between Union and California will be retained by adding a green bike lane in one direction, adding green shared lane markings in the other direction, and implementing morning tow-away regulations on the shared side of the street to provide more space for cars and bikes to share the road (click plan to enlarge):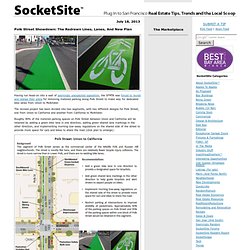 Polk Street Showdown: The Redrawn Lines, Lanes, And New Plan at SocketSite™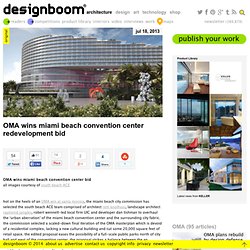 OMA wins miami beach convention center bid
jul 18, 2013 OMA wins miami beach convention center redevelopment bid OMA wins miami beach convention center bid all images courtesy of south beach ACE
the fifty united plates by ceramic designers corbe company
jul 16, 2013 the fifty united plates by ceramic designers corbe company the fifty united plates by ceramic designers corbe company all images courtesy of corbe company based on the traditional map of the united states 'the fifty united plates' is a collection from american ceramic designers, corbé company. made of porcelain, the project crosses the boundaries of craft, art and design. constructed to scale the unique pieces fit seamlessly in with their neighbor, to collectively form the entire nation.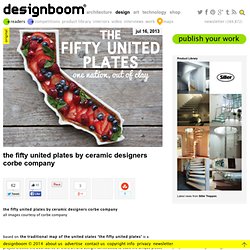 ErickRivard : Le Plateau Mont-Royal, bel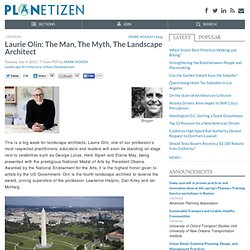 Laurie Olin: The Man, The Myth, The Landscape Architect | Planetizen: The Urban Planning, Design, and Development Network
This is a big week for landscape architects. Laurie Olin, one of our profession's most respected practitioners, educators and leaders will soon be standing on stage next to celebrities such as George Lucas, Herb Alpert and Elaine May, being presented with the prestigious National Medal of Arts by President Obama. Awarded by the National Endowment for the Arts, it is the highest honor given to artists by the US Government.
Young people across the country are decreasing the amount they drive and increasing their use of public transit. Meet Jacob Curtis, a 29 year old young professional who was recently featured in The New York Times. Jacob moved to Charlotte for a new job. He found a home close to bus and rail lines. His home is in a location where he can ride his bike to the office along a no-traffic greenway. During his off hours, he navigates the Queen City easily thanks to his smartphone, which helps him plot routes that blend biking and mass transit options.
BRT: Cities Get on Board with Better, Reliable Transportation | Planetizen: The Urban Planning, Design, and Development Network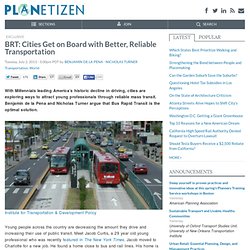 Portlandia This past week I had the fortune to travel down to Portland to participate at the 50th Making Cities Livable Conference. This was my first professional type of trip and it was really quite the experience. There were many excellent presenters. Two presentations that really stuck with me came from the mayors of Salt Lake City, Utah and Carmel, Indiana.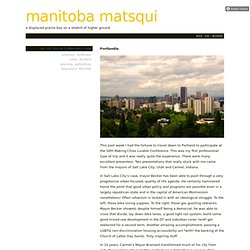 manitoba matsqui
manitoba matsqui
archdaily
2013-06-28+All+Boards+Open+House+June+20
Shortlist Announced to Design Moscow's First Park in 50 Years
In the 20th century, it was going to be the site of the world's tallest skyscraper, but it became the world's largest hotel. In 2006, the hotel was replaced with a fence, the largest advertising space in all of Europe, enclosing acres of undeveloped, highly valuable land. In 2014, it will become Moscow's first – and most important – park in over 50 years. Zaryadye Park, located on 13 acres of land just a minute's walk from the Kremlin and the Red Square, will become a gateway to Moscow, one that will "project a new image of Moscow and Russia to the world." Because of the Park's significance, the city of Moscow (with aid from the Strelka Institute for Media Architecture and Design) has decided to host an international competition for its re-design.
During a move from Los Angeles to Austin six years ago, photographer Ryann Ford kept coming across 20th century rest stops, each one different from the other. Humble in stature, these traditional rest areas, despite their charm, have become a relic of America's roadside past, unable to match the conveniences of modern day travel centers with their fast food restaurants, wireless internet, and large bathrooms. On her website, Ford expresses disappointment in the nation's increasing preference for homogeneous travel centers, allowing rest areas to lose "the fight to commercial alternatives."
A Disappearing American Original: The Roadside Rest Area - Mark Byrnes
jun 11, 2013 longboard stroller: an experiment in urban mobility longboard stroller: an experiment in urban mobilityall images courtesy longboard stroller
longboard stroller: an experiment in urban mobility
SAINT JOHN - Saint John does not typically come to mind when thinking of a city with a cycling culture. In the 2006 census, the Saint John CMA had the lowest cycling rates in Canada with only 0.3% of the population using a bicycle as their primary commute mode. This is compared to the North American average of 1 to 3%. The highest cycling rates in Canada were reported in Victoria, BC with 5.6% of the population regularly commuting on a bicycle. Closer to home, Moncton and Halifax each experience a cycling commute mode share of 1.0%. The city is hoping to change this.
Saint John Invests in Bicycle Infrastructure | Spacing Atlantic
In Vallejo, California, last week, a man was arrested and jailed for painting a crosswalk at what he says is a dangerous intersection in his city. Anthony Cardenas, 52, was bailed out to the tune of $15,000 by an anonymous donor after a night in the slammer. When he got back to his neighborhood, he was greeted with what the local Times-Herald referred to as "a hero's welcome":
Painting Your Own Crosswalk: Crime or Civic Opportunity? - Sarah Goodyear
Development Done Well Is a Community Affair
Frank Lloyd Wright's Guggenheim Rotunda to be Transformed into Turrell Skyspace
Photography by Jesper Rasmussen
A New Humanism: Part 20 - Point of View - May 2013
Where Americans Want To Live: New ULI Report, America In 2013, Explores Housing, Transportation, Community Preferences Survey Suggests Strong Demand for Compact Development - Urban Land Institute
It's Time For City Planners To Adapt A New Model
Everyone Deserves Good Design - Point of View - May 2013
Patrick Oystryk
Their Wall | A really cool idea for a community wall!
Changing The Land: Integrating Ecological Science With Design
Warren Byrd: How to Be a Landscape Architect
Feyssine Park by Ilex Paysage Urbanisme
Graphisoft Park by Garten Studio
ideas + buildings | People and Perspectives at Perkins+Will
LOLA Landscape Architects win Maaskant Prize 2013: Topos
Steeling Beauty
21 Balançoires (21 Swings) on Vimeo
6 Hyper Exotic Urban Gardens - Amanda Erickson
Arkadien Winnenden by Atelier Dreiseitl
TUMO Park
In the Rock - Fire Brigade Magreid
Development Bank Of The Meurthe by Atelier Cite Architecture
What If the Entire World Lived in 1 City? - Emily Badger
Tanner Springs Park by Atelier Dreiseitl
Urban Coffee Farm and Brew Bar by HASSELL
Actually Worthwhile Advertising: a Water-Producing Billboard - Technology
L.A.'s Parklets Have Gotten Quite Fancy - Arts & Lifestyle
What Will Happen to Budapest's 'Ruin Pubs' Once All the Ruin Is Removed? - Arts & Lifestyle
Schöneberger Südgelände Park by Odious
Calendar Garden by Studio Basta
Købmagergade Shopping Street by KBP.EU (Karres en Brands + Polyform)
Nicholson Street Mall by HASSELL
The Case for Walkability as an Economic Development Tool - Design
San Francisco's Parklet Built Out of a Citroën H Van Might Be Shut Down - Neighborhoods
Fairy Tale Architecture: The Halloween Edition
Flashback: MoMA's Ideas to Combat Rising Seas in New York Harbor - Design
Philips Hue: The Light Bulb You Can Control With Your Phone
The digital doesn't annihilate the analog, and the business card creativity proves it.
Patrick Oystryk
An Airport Terminal That Perks You Up Instead Of Grinding You Down
In Osaka, A Camper Store With A Floating Trail Of Shoes
(Slide 1) | Mad Scientists Offer $1,500 Shoes Made From Genetically Engineered Stingrays
Designed in Hackney: Costume designs for Carbon Life by Gareth Pugh
Maria Chairs \ estudio e+d
Camper store in Lyon by Studio Makkink & Bey
A Chair Made Of Balsa Wood Weighs Under 3 Pounds, And Still Won't Shatter
A Blanket Made Out Of Wood That Actually Works!
Imagine A Kitchen-Friendly iPad That You Can Cut On
Gentle by Front for Porro
Stefan Sagmeister: The Happy Show
Image of the Week: New York Details; Brooklyn and The High Line
Dude, Seriously: They Invented A One-Handed Beer Bottle Opener
How Do You Market A Breakthrough Camera Like The Lytro? Very, Very Cleverly
Salvador Dalí's Real Masterpiece: The Logo For Chupa Chups Lollipops
Architecture / Table Vic made from one piece of plywood.
Rendre publique la durabilité : La plateforme d'observation du Bayou à la Nouvelle Orléans
Redevelopment plan presented for historic Port-au-Prince | New Urban Network