Paddyl888
Patrick
Medical Student who loves music, books, movies and everything else!
Writing
SCHOPENHAUERS 38 STRATAGEMS, OR 38 WAYS TO WIN AN ARGUMENT - StumbleUpon. Arthur Schopenhauer (1788-1860), was a brilliant German philosopher.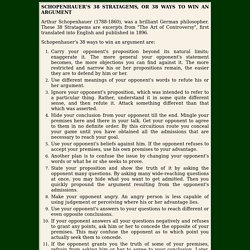 These 38 Stratagems are excerpts from "The Art of Controversy", first translated into English and published in 1896. Carry your opponent's proposition beyond its natural limits; exaggerate it. Design. Technology. Photogrpahy. The Art of Complex Problem Solving - StumbleUpon.
---