Docos
Whose Line is it Anyway? The Dungeon Masters Official Trailer. The Wisdom of the Dream. First in a three-part series of films produced by PBS, on the life and works of the great thinker and psychiatrist Carl Gustav Jung.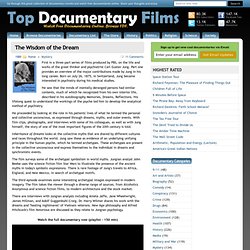 Part one provides an overview of the major contributions made by Jung in his long career. Born on July 26, 1875, in Switzerland, Jung became interested in psychiatry during his medical studies. He saw that the minds of mentally deranged persons had similar contents, much of which he recognized from his own interior life, described in his autobiography Memories, Dreams, Reflections. Marwencol - NEWS. 4oDDocumentaries's Channel. "The Human Face" (2001) I Think We're Alone Now documentary trailer. Large « Beer Wars Movie. The Famine Scam" part 1 of 6. Trouble in Amish Paradise (Part 1 of 6) Pt. 1 - Jonestown: The Life and Death of Peoples Temple.
The Day I Died - Documentary Part 1 of 6. The Dying Rooms 1/4 - watch in HQ. Who wants to be a Millionaire - Major Fraud. Catfish - Trailer. Madness In The Fast Lane 1/4.
---