CRACKED
6 Insane Discoveries That Science Can't Explain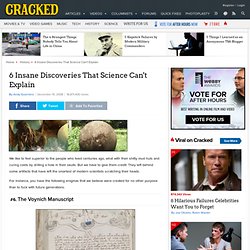 We like to feel superior to the people who lived centuries ago, what with their shitty mud huts and curing colds by drilling a hole in their skulls. But we have to give them credit: They left behind some artifacts that have left the smartest of modern scientists scratching their heads. For instance, you have the following enigmas that we believe were created for no other purpose than to fuck with future generations. The Voynich Manuscript The Mystery:
Gay Bigfoot & the 7 Weirdest Mythical Creatures in the World
It's easy to feel a little down in the morning, as you slump over your wilting shitflakes and ruminate on the day of savage tedium that lies ahead. However, such existential misery can be allayed simply by saying to oneself, "No matter how dull, desperate and lonely my life has become, I nevertheless live in a world where fish can launch fireballs."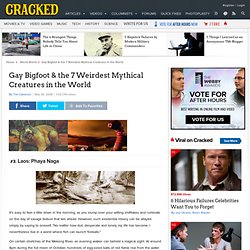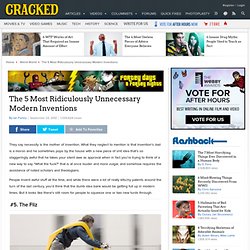 The 5 Most Ridiculously Unnecessary Modern Inventions
They say necessity is the mother of invention.
#3. Solar Panels Blind Airplane Pilots Getty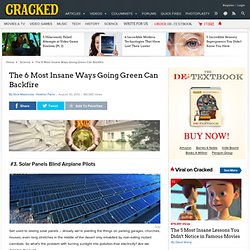 The 6 Most Insane Ways Going Green Can Backfire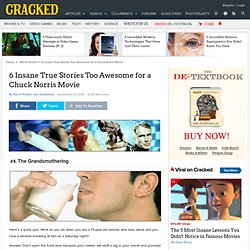 Here's a quick quiz: What do you do when you are a 73-year-old woman who lives alone and you hear a window breaking at 1am on a Saturday night? Answer: Don't open the front door because your robber will stuff a rag in your mouth and proceed with thieving you. Which, unfortunately, was exactly what happened to an elderly woman a few years ago when she let her robber, Juan Garcia Vasquez, right in the door so he could conduct his robbery of her.
6 Insane True Stories Too Awesome for a Chuck Norris Movie
Let's face it, we really trust science. In fact, studies suggest that the vast majority of people will murder another human being, if a guy in a lab coat tells them it's OK. But surely in their insatiable curiosity and desire to put knowledge above all things, science would never, say, inadvertently set off a chain of events that lead to some sort of disaster that ended the world. Right? Well, here's five experiments that may prove us wrong.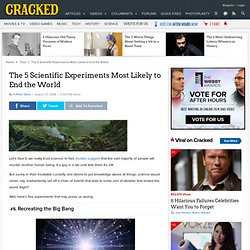 The 5 Scientific Experiments Most Likely to End the World
The 5 Weirdest Ways Music Can Mess With the Human Brain
It Changes Your Drinking Habits Did you ever wake up in the back of a taxi after a long night of tossing down cognac and prune juice and wonder how your pants got replaced by a thick but clumsily applied coat of colorful body paint? Well, now there's something to blame it on besides your bad childhood: music.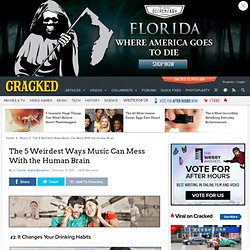 Humans build incredible things.
7 Mind-Blowing Structures Built in Secret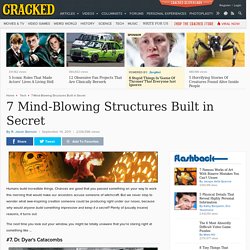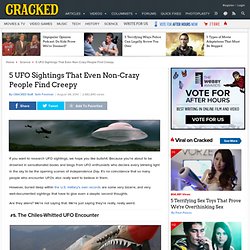 If you want to research UFO sightings, we hope you like bullshit. Because you're about to be drowned in sensationalist books and blogs from UFO enthusiasts who declare every blinking light in the sky to be the opening scenes of Independence Day. It's no coincidence that so many people who encounter UFOs also really want to believe in them.
5 UFO Sightings That Even Non-Crazy People Find Creepy
The world is full of magic, it's just that a lot of it isn't visible without special tools. Fortunately, microscopes exist. Because when you take normal, everyday things and magnify them by a factor of about a bajillion, it's like you're suddenly in a whole new world where the rivers run with LSD and every crop is magic mushrooms.
9 Normal Things That Look Trippy Under a Microscope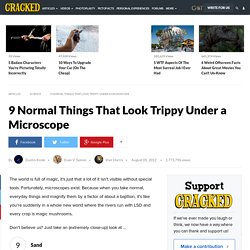 6 Images of Abandoned Weaponry You Won't Believe Are Real
Rare, expensive materials, cutting-edge designs and top-secret prototypes are all hallmarks of the military industrial complex.
5 Reasons Immortality Would be Worse than Death
Time Speeds Up Until You're Insane
Gravity sucks. It's always keeping us down, preventing cars from hovering and cruelly denying people the God-given right to have Inception-like fights on the ceiling of hotel hallways. And yet, despite limitations, brave people throughout history have heroically told gravity to go straight to hell.
6 People Who Defied Gravity (And Then Kicked It in the Nuts)
7 People From Around the World With Real Mutant Superpowers
They walk among us! Some even fly among us! They may even take the bus among us from time to time! Homosapiens-Superior is here, and can do things that have scientists scratching their heads. We're carefully tracking their progress, so that one day soon we may gather them together and fight crime.
10 Creepy Plants That Shouldn't Exist
We spend a lot of time here at Cracked pointing out horrors of nature that slither on the land and lurch through the sea. But staying under the radar in nature's landscape of nightmares is the twisted carnival of things that grow out of the ground. Like ... Bleeding Tooth Fungus The bleeding tooth fungus looks kind of like a wad of chewing gum that leaks blood like a rejected prop from The Shining. They're also called the strawberries and cream, the red-juice tooth, and the devil's tooth.
6 "Non-Lethal" Weapons That'll Make You Wish You Were Dead
5 Real Life Soldiers Who Make Rambo Look Like a Pussy
5 Seemingly Random Factors That Control Your Memory
6 Real People With Mind-Blowing Mutant Superpowers
The 6 Most Terrifying Foods in the World
5 Seemingly Harmless Things That Are Stressing You Out
8 Things You Won't Believe Plants Do When No One's Looking
5 Things You Won't Believe Are Making You Dumber
6 Badass Tricks You Can (But Shouldn't) Do With Electricity
The 7 Most Terrifying Rejected TV Ads
The 6 Most Badass Murder Weapons in the Animal Kingdom
5 Insane Ways Words Can Control Your Mind
6 Ways Your Sense of Smell Is Secretly Controlling Your Mind
5 Creepy Forms of Mind Control You're Exposed to Daily
The 5 Most Spectacular Landscapes on Earth (That Murder You)
7 WTF Military Weapons You Won't Believe They Actually Built