Teacher's Guide to Web 2.0
Drop by every Friday to discover what wonderful website my classes and parents loved this week. I think you'll find they'll be a favorite of yours as they are of mine. Age:
Weekend Website #89: Rubrics for Web 2.0 Tools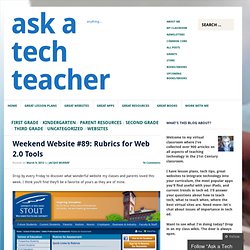 I am web geek, and not just because I own a Foursquare t-shirt that I bought at a discount after my 1000th check in. The real reason I know I am a web geek is because I LOVE discovering cool web 2.0 tools that can enhance my classroom! I am about to share with you my not so secret sources for teacher Web 2.0 excitment! ...and that's not all! Actually, it is, but I think you will enjoy discovering all of the new tools that these web sources will present.
All the Web 2.0 Tools you'll ever need in one blog post!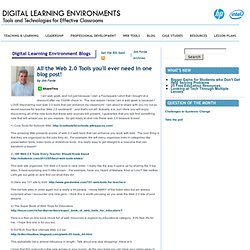 Discovery Education Web2011 : Home
Web Tools that support this standard •Gizmos ExploreLearning currently has over 450 Gizmos with accompanying curricular materials, all with the aim of sharing the "Ah-Hah!" moment with teachers and students. • SAS Curriculum Simulations By integrating technology and instruction, SAS Curriculum Pathways helps students master the core disciplines in an efficient, cost-effective manner.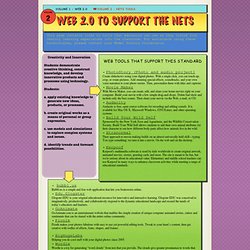 100 Web 2.0 Tools Every Teacher Should Know About 44.24K Views 0 Likes We're always trying to figure out the best tools for teachers, trends in the education technology industry, and generally doing our darnedest to bring you new and exciting ways to enhance the classroom. But I wanted t... 20 Free and Fun Ways To Curate Web Content 23.98K Views 0 Likes
The Super Book of Web Tools for Educators
A Teacher's Guide To Web 2.0 at School | The Best Of Web 2.0