To read
is_landia
Me toca hablar a mí. A ver, no creais que quiero protagonismo en Is_landia, que ya sé que es vuestra y, como mucho, me considero una invitada que lleva meses pululando por aquí, junto a Nico. Menudo Nico!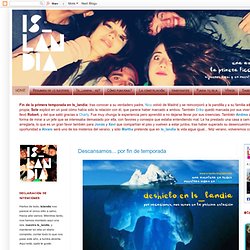 Whenever I hear 'Crazy Train' I'm immediately transported back to 8th grade Guitar class. One dude will forever be etched in my mind. Dave was 1/2 Japanese, all of about 5 ft tall, and probably weighed 80 lbs soaking wet, if that. His hair, alone worthy of open adoration, making up the bulk of his weight and height. This 'Metal Mane' was streaked, sprayed, and stood a good 6 inches above his head, cascading down to the middle of his back in perfectly teased strands. My 13 yr old brain could not fathom the ridiculous routine and expense this must have required.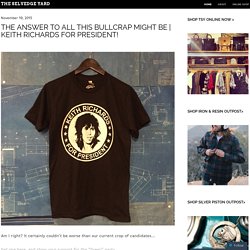 The Selvedge Yard
modernadepueblo.com
Minileaks, pequeñas revelaciones motivadas por grandes valores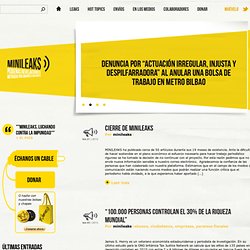 Cierre de MINILEAKS MINILEAKS ha publicado cerca de 50 artículos durante sus 19 meses de existencia. Ante la dificultad de hacer sostenible en el plano económico el esfuerzo necesario para hacer trabajo periodístico riguroso se ha tomado la decisión de no continuar con el proyecto. Por esta razón pedimos que no se envíe nueva información sensible a nuestro correo electrónico. Agradecemos la confianza de las personas que han colaborado con nuestra plataforma. Estimamos que en el campo de los medios de comunicación están naciendo nuevos medios que podrán realizar una función crítica que el periodismo había olvidado, a la que esperamos haber aportado [...]
Los 'B-Stylers': japoneses que quieren ser negros Hablé con la fotógrafo Desiré van den Berg sobre la pequeña subcultura rap. El Schlecker ya no es lo que era Rafa Castells, políticas de supermercados y libros de fotografías. El soldado polaco que se coló en Auschwitz El 19 de septiembre de 1940, Witold Pilecki fue capturado por oficiales alemanes de las SS y enviado al campo de concentración de Auschwitz. Pilecki era un espía y su misión consistía en organizar la resistencia desde el interior de uno de los símbolos más horribles del Holocausto, hacer llegar la información al bloque aliado y dejar constancia de los horrores que presenciara en aras de la historia.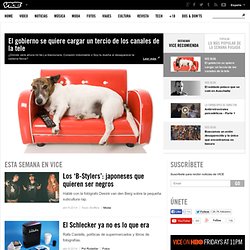 Música, Moda, Política, Arte y Cine | Fotos, Blogs y Vídeos | Vice.com España
Apr 5, 2014 Red Bulletin: The Extra One Per Cent Apr 5, 2014 How do you up your game if you're already world-class? Mountain-biking dynasty the Athertons head for the lab and Spanish islands in their quest for excellence – and reveal how you can be a better...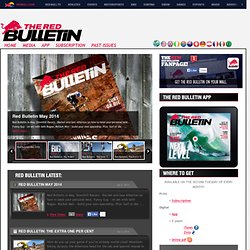 Red Bulletin :: Red Bull
You Publish