Photoshop
We see a lot of Photoshop tutorials on the net, but most of what we come across are tutorials written in a step-by-step manner. In most cases, the instructions are clear-cut and easy to follow, but few would argue against an even more effective kind of tutorial: Video tutorials . With the emergence of video sharing websites such as Youtube and Metacafe over the recent years, we see an ever-increasing number of user-generated videos from all over the net.
56 Absolutely Brilliant and Intriguing Photoshop Video Tutorials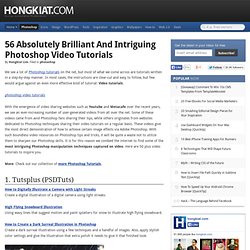 22 Photoshop Videos To Turn You Into An Expert
Videos
Photoshop Tutorials from PhotoshopCAFE -free Photoshop training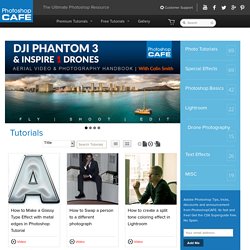 Special Effects | Text Effects | Photo Tutorials | Textures | Web Design | Misc Smart Objects are completely non destructive and allow you to change your mind by using Smart Filters. Smart Objects are containers that work with Images, RAW files, vectors, Illustrator files, PDFs and more. In this video tutorial Colin walks you through a number of features of Smart Objects in Photoshop.
30 Photoshop Video Tutorials – Learn from the Pros of Graphic Design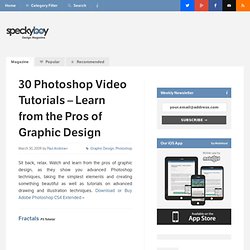 Sit back, relax. Watch and learn from the pros of graphic design, as they show you advanced Photoshop techniques, taking the simplest elements and creating something beautiful as well as tutorials on advanced drawing and illustration techniques. Download or Buy Adobe Photoshop CS4 Extended »
What's New in CS5.5
Most artists, designers, and photographers need to apply texture, aging, and weathering effects to their work at some point. These types of effects can be a lot of fun to apply to your work, but applying them using Photoshop's basic tools can be quite time-consuming. In this tutorial, we will show you how the new Machine Wash Deluxe plugin by Mister Retro can be used to apply professional quality texture, aging, and weathering effects to artwork. Let's take a look! ( Continue )