Pabs
Valhalla Rising (A Fantasy Series)
Prologue About 4.5 billion years ago You would think that it should be pitch black. However, there was a faint glow, but where it was coming from was impossible to ascertain. In Foaming Fury
Piggy Oh!
Getting the "right" kind of education is as significant as being educated. But almost 75% of the world's population of students are being deprived of quality education disregarding the socio-economic or cultural standards of the countries to which they belong. The "right kind of education" is not something that can be perceived in the curriculum or in the syllabus of the educational institution, but it is the collective influence of all these factors upon the individual student, under which the student will become capable of adhering himself without causing any unnecessary tension, to the social order and at the same time, will be able to question the very notion of 'society' itself with cogent critical perspectives. The absence of such a condition is what makes some say, there can be seen more wisdom sometimes in the uneducated people than, the educated.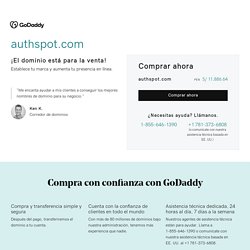 Thouts and The World of Them
Me and my Cat
Long Nose
Snoopy the Builder
Standing Alone
Photographer: mohammed123
When I Was Little
American Kestrel, The Sparrow Hawk. Favorite Son of Falconry | S
We had a nesting pair of these use a hollow in the apple tree in front of my parent's house when I was a teenager. It was neat seeing these magnificent-looking falcons flying in and out of the nest. Kestrels pair-bond for the most part and year after year, will often return to the same nesting spot.
What If?
Devil Dust
If The End of The World Was Nigh
Seasons
So Sir Waddy Waddy begins by making his debut with small balancing acts on everyday obstacles. Below he uses a table: His next balancing act shows his use of a streetlight: Sir Waddy Waddy is about to embark on a journey to try and use as many everyday objects as possible as balancing stands. He is also a climber, and believe me he can do some wicked tricks on a climbing wall.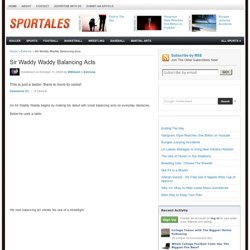 Sir Waddy Waddy Balancing Acts
Colours
Bag for Life
Innocent Child!
God: Hello Pauline! What would you like to talk about? You: Family Guy God: Do you want to continue talking about Lizards? Image via Wikipedia You: no, i said family guy. You know the tv show God: ""?
A Talk with God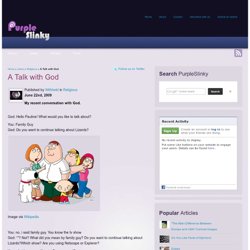 The One
The Fart