Développement
JavaScript Garden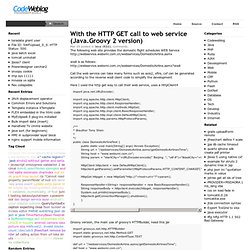 With the HTTP GET call to web service (Java.Groovy 2 version) | CodeWeblog.com
The following web site provides the domestic flight schedules WEB Service http://webservice.webxml.com.cn/webservices/DomesticAirline.asmx
Webservice |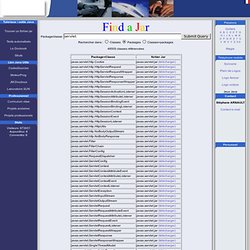 Find a Jar 48505 classes référencées
Trouvez le nom du fichier jar qui contient un package ou une classe Java
OpenSocial - Google Code
La sérialisation en Java s'appuie sur les flux (voir ce tutoriel sur le package java.io), c'est pourquoi une certaine connaissance de ceux-ci est souhaitable pour aborder ce tutoriel en toute sérénité.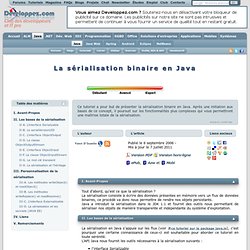 La sérialisation binaire en Java
Haxe (pronounced as hex) is an open source programming language While most other languages are bound to their own platform (Java to the JVM, C# to .Net, ActionScript to the Flash Player), Haxe is a multiplatform language.
haXe Introduction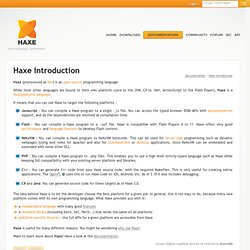 Les applications riches : RIA et RDA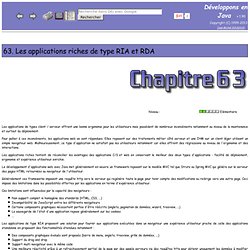 Les applications de types client / serveur offrent une bonne ergonomie pour les utilisateurs mais possèdent de nombreux inconvénients notamment au niveau de la maintenance et surtout du déploiement.
Data Protocol - Google Code
Bienvenue sur la ZONE DMC : Zone HTML / XHTML (V5.0)
odelia technologies | étendez vos limites, développez votre potentiel
Tout le monde sait manipuler des variables en PHP. Peut-on en dire autant quand les concepts de "copie" et de "références" entrent en jeu ?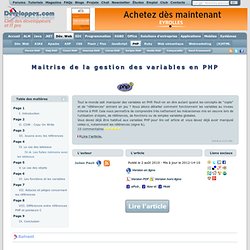 Maitrise de la gestion des variables en PHP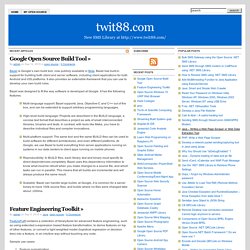 on programming and open source
Open Source Project Management Tools » By admin on Jan 6, 2014 in open source | 0 Comments