Articles
An Incredible Way to Reveal Passwords Behind Asterisks | Web Talk - StumbleUpon. If you use a lot of online services it also means that you have got a lot of passwords and usernames to remember.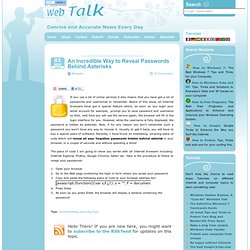 Aware of this issue, all Internet browsers have got a special feature which, as soon as you login your email account for example, prompt you to save password and username so that, next time you will use the service again, the browser will fill in the login interface for you. However, while the username is fully displayed, the password is hidden by asterisks. Now, if for any reason you don't remember such a password you won't have any way to recover it. Usually, to get it back, you will have to buy a special piece of software. Recently, I have found an interesting, amazing piece of code which will reveal all your forgotten passwords hidden behind asterisk in your browser…in a couple of seconds and without spending a dime! Comment changer le moteur de recherche ? [Résolu] | CommentCaMarche. Ouais... les gens aiment se compliquer la vie inutilement...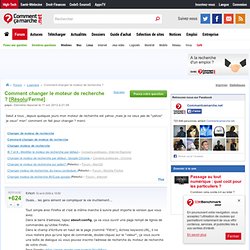 Tout simple avec Firefox et c'est la même marche à suivre peut importe la version que vous avez. Dans la barre d'adresse, tapez about:config, ça va vous ouvrir une page rempli de lignes de commandes qu'utilise Firefox. Dans le champ d'écriture en haut de la page (nommé "Filtre"), écrivez keyword.URL, il ne vous restera plus qu'une ligne de commande, double-cliquez sur la "valeur", ça vous ouvre une boîte de dialogue où vous pouvez inscrire l'adresse de recherche du moteur de recherche de votre choix.
Pour Google: Protect Pregnant Women: Free Bei Bei Shuai. Bad things happen when laws to protect fetuses are turned against the women who carry them.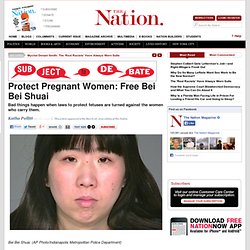 Bei Bei Shuai. (AP Photo/Indianapolis Metropolitan Police Department) On March 14, Bei Bei Shuai will have spent one full year in jail in Marion County, Indiana. Her crime? The great unicorn hunt | Science. Astronomy, critical thinking, philosophy and pseudo-science are covered at Camp Quest.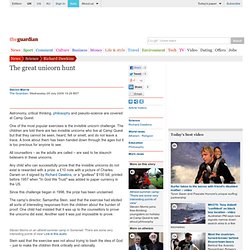 One of the most popular exercises is the invisible unicorn challenge. The children are told there are two invisible unicorns who live at Camp Quest but that they cannot be seen, heard, felt or smelt, and do not leave a trace. A book about them has been handed down through the ages but it is too precious for anyone to see. All counsellors – as the adults are called – are said to be staunch believers in these unicorns. Outcry in America as pregnant women who lose babies face murder charges | World news. Rennie Gibbs is accused of murder, but the crime she is alleged to have committed does not sound like an ordinary killing.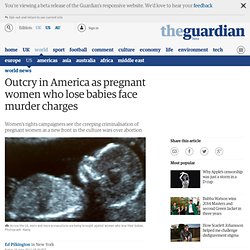 Yet she faces life in prison in Mississippi over the death of her unborn child. Gibbs became pregnant aged 15, but lost the baby in December 2006 in a stillbirth when she was 36 weeks into the pregnancy. When prosecutors discovered that she had a cocaine habit – though there is no evidence that drug abuse had anything to do with the baby's death – they charged her with the "depraved-heart murder" of her child, which carries a mandatory life sentence. Soraya Chemaly: 10 Reasons the Rest of the World Thinks the U.S. Is Nuts. This week the Georgia State Legislature debated a bill in the House that would make it necessary for some women to carry stillborn or dying fetuses until they "naturally" go into labor.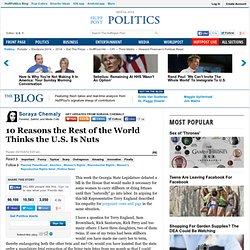 In arguing for this bill Representative Terry England described his empathy for pregnant cows and pigs in the same situation. I have a question for Terry England, Sam Brownback, Rick Santorum, Rick Perry and too many others: I have three daughters, two of them twins. If one of my twins had been stillborn would you have made me carry her to term, thereby endangering both the other twin and me? The Smart List 2012: 50 people who will change the world. Welcome to the first Wired Smart List.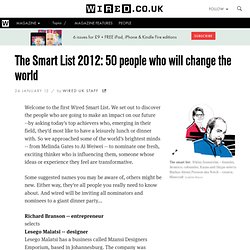 We set out to discover the people who are going to make an impact on our future --by asking today's top achievers who, emerging in their field, they'd most like to have a leisurely lunch or dinner with. So we approached some of the world's brightest minds -- from Melinda Gates to Ai Weiwei -- to nominate one fresh, exciting thinker who is influencing them, someone whose ideas or experience they feel are transformative. Some suggested names you may be aware of, others might be new. Either way, they're all people you really need to know about.
And wired will be inviting all nominators and nominees to a giant dinner party...
Psychology
---