Pocket
Patchwork: A Service Design Case Study. Service Design is central to the way we work at FutureGov and was fundamental in the development of Patchwork, our smart, secure app for better team collaboration around clients.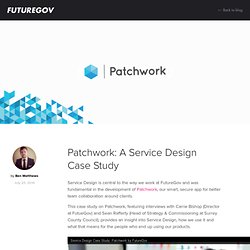 This case study on Patchwork, featuring interviews with Carrie Bishop (Director at FutueGov) and Sean Rafferty (Head of Strategy & Commissioning at Surrey County Council), provides an insight into Service Design, how we use it and what that means for the people who end up using our products. The case study was filmed as part of Create Tomorrow, a new innovation micro-site, where Dominic Campbell is featured as an expert on innovation in public services.
Many thanks to Sean for explaining how Patchwork is making a difference in Surrey. Supporting over 900 agencies and 2,500 people, you can find out more about Patchwork at www.patchworkhq.com. Play time is over. Play time is over.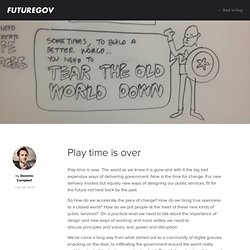 The world as we knew it is gone and with it the big bad expensive ways of delivering government. Now is the time for change. For new delivery models but equally new ways of designing our public services, fit for the future not held back by the past. Sam Altman on Start-ups, Venture Capital, and the Y Combinator. Sam Altman, president of startup accelerating firm Y Combinator, talks to EconTalk host Russ Roberts about Y Combinator's innovative strategy for discovering, funding, and coaching groundbreaking startups, what the company looks for in a potential startup, and Silicon Valley's attitude toward entrenched firms.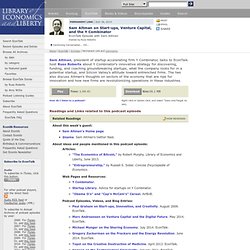 The two also discuss Altman's thoughts on sectors of the economy that are ripe for innovation and how new firms are revolutionizing operations in these industries. Right-click or Option-click, and select "Save Link/Target As MP3. Readings and Links related to this podcast episode Highlights. Uncertainty About How Best to Convey Uncertainty.
NPR News ran a series of stories this week under the header Risk and Reason, on "how well we understand and act on probabilities."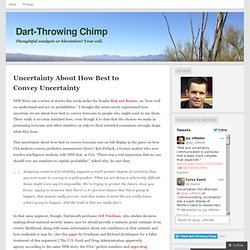 I thought the series nicely represented how uncertain we are about how best to convey forecasts to people who might want to use them. There really is no clear standard here, even though it is clear that the choices we make in presenting forecasts and other statistics on risks to their intended consumers strongly shape what they hear. This uncertainty about how best to convey forecasts was on full display in the piece on how CIA analysts convey predictive assessments (here). Ken Pollack, a former analyst who now teaches intelligence analysis, tells NPR that, at CIA, "There was a real injunction that no one should ever use numbers to explain probability."
---