Leaks
2011-07-20 Open letter to servicemen and women regarding supporting WikiLeaks in the U.S. Military | WL Central. Authored by data venia To this day, supporting WikiLeaks remains unreasonably controversial.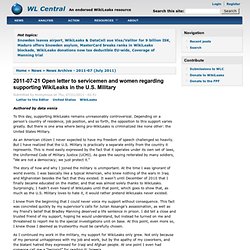 Depending on a person's country of residence, job position, and so forth, the opposition to this support varies greatly. But there is one area where being pro-WikiLeaks is criminalized like none other: the United States Military. As an American citizen I never expected to have my freedom of speech challenged so heavily. WikiLeaks: leaked files accuse BBC of being part of a 'possible propaganda media network' The Daily Telegraph rang the phone number on Monday.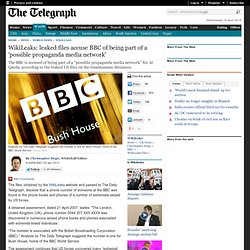 A single tone on the line suggested that it had been disconnected, or was no longer in use. The possible link between extremism and staff at the BBC will anger the national broadcaster, which prides itself on its impartiality. The BBC number was given in the file of Turki Mish'awi Za'id Alj-Amri, a Saudi who was "assessed to be a member of al-Qaeda, who travelled to Afghanistan to participate in Jihad". The file claims that Alj-Amri had "stayed at al-Qaeda facilities, received training at an al-Qaeda camp, and served under al-Qaida leadership in Tora Bora, AF.
"Detainee's pocket litter links him to significant Anti-Coalition Militia (ACM) personnel and groups." Labor entered 'crisis mode' before leaks. Julian Assange ... was the subject of Australian intelligence reporting last year.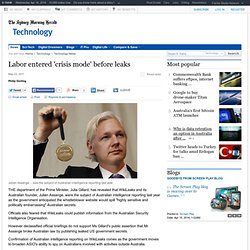 THE department of the Prime Minister, Julia Gillard, has revealed that WikiLeaks and its Australian founder, Julian Assange, were the subject of Australian intelligence reporting last year as the government anticipated the whistleblower website would spill "highly sensitive and politically embarrassing" Australian secrets. Officials also feared that WikiLeaks could publish information from the Australian Security Intelligence Organisation. However declassified official briefings do not support Ms Gillard's public assertion that Mr Assange broke Australian law by publishing leaked US government secrets. Confirmation of Australian intelligence reporting on WikiLeaks comes as the government moves to broaden ASIO's ability to spy on Australians involved with activities outside Australia. Advertisement. WikiLeaks: Guantanamo Bay terrorist secrets revealed.
Only about 220 of the people detained are assessed by the Americans to be dangerous international terrorists.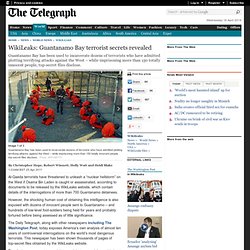 A further 380 people are lower-level foot-soldiers, either members of the Taliban or extremists who travelled to Afghanistan whose presence at the military facility is questionable. At least a further 150 people are innocent Afghans or Pakistanis, including farmers, chefs and drivers who were rounded up or even sold to US forces and transferred across the world. In the top-secret documents, senior US commanders conclude that in dozens of cases there is "no reason recorded for transfer".
5 WikiLeaks Hits of 2011 That Are Turning the World on Its Head — And That the Media Are Ignoring | Missing Pieces. Between Collateral Murder, the Iraq War Logs, the Afghan War Diary, and Cablegate, it appeared as though 2010 would go down in history as the most shocking year in WikiLeaks revelations.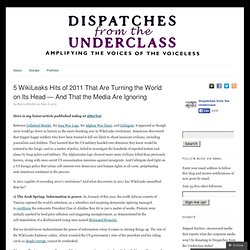 Americans discovered that trigger-happy soldiers who have been trained to kill are likely to shoot innocent civilians, including journalists and children. They learned that the US military handed over detainees they knew would be tortured to the Iraqis, and as a matter of policy, failed to investigate the hundreds of reported torture and abuse by Iraqi police and military. The Afghanistan logs showed many more civilians killed than previously known, along with once-secret US assassination missions against insurgents. And Cablegate shed light on a US foreign policy that values self-interest over democracy and human rights at all costs, perpetuating anti-American sentiment in the process.
Is 2011 capable of exceeding 2010′s revelations? Pakistan Papers DAWN.COM | Latest news, Breaking news, Pakistan News, World news, business, sport and multimedia. WikiLeaks embassy cables: download the key data and see how it breaks down | World news. • Remember this is the date, time, sender and tags for each cable - NOT the text of the cable itself WikiLeaks embassy cables revelations cover a huge dataset of official documents: 251,287 dispatches, from more than 250 worldwide US embassies and consulates.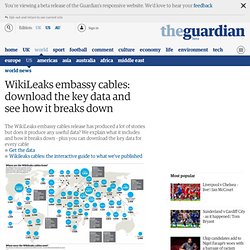 It's a unique picture of US diplomatic language - including over 50,000 documents covering the current Obama administration. But what does the data include? Latest WikiLeaks cables reveal Israel's fears and alliances | World news. Mohammed Tantawi, who heads Egypt's ruling military council, is named in WikiLeaks cables about Israel as an 'obstacle' in efforts to stop weapons smuggling into Gaza.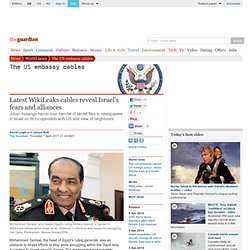 Photograph: Nasser Nasser/EPA Mohammed Tantawi, the head of Egypt's ruling generals, was an obstacle to Israeli efforts to stop arms smuggling within the Gaza strip, according to Israeli security forces. The assessment was privately delivered to US diplomats, alongside praise for former intelligence chief Omar Suleiman's efforts to stop weapons trafficking, according to the WikiLeaks embassy cables.
The revelations come in a tranche of the most militarily sensitive cables from the US embassy in Tel Aviv. They have been handed over to Israeli newspapers by WikiLeaks founder Julian Assange. The US embassy cables | World news. Afghanistan: The war logs | World news. Iraq: The war logs | World news. The Guantanamo Files. X WikiLeaks: 550 days of banking blockade - no process Assange: 547 days detainment - no charge Manning: 744 days in jail - no trial.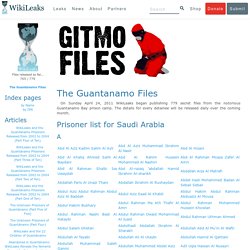 WikiLeaks Japan: Sea Shepherd Challenges Whale Diplomacy - Japan Real Time. US diplomats spied on UN leadership | World news. Washington is running a secret intelligence campaign targeted at the leadership of the United Nations, including the secretary general, Ban Ki-moon and the permanent security council representatives from China, Russia, France and the UK.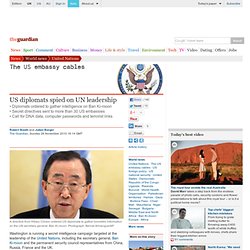 A classified directive which appears to blur the line between diplomacy and spying was issued to US diplomats under Hillary Clinton's name in July 2009, demanding forensic technical details about the communications systems used by top UN officials, including passwords and personal encryption keys used in private and commercial networks for official communications.
It called for detailed biometric information "on key UN officials, to include undersecretaries, heads of specialised agencies and their chief advisers, top SYG [secretary general] aides, heads of peace operations and political field missions, including force commanders" as well as intelligence on Ban's "management and decision-making style and his influence on the secretariat". Wikileaks: Congress party 'bought India votes' 17 March 2011Last updated at 13:26 GMT The report has caused uproar in parliament India's ruling Congress party bribed MPs to survive a crucial vote of confidence in 2008, a diplomatic cable leaked by Wikileaks suggests.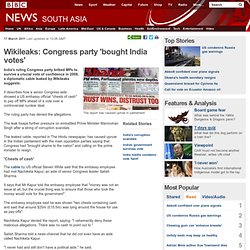 It describes how a senior Congress aide showed a US embassy official "chests of cash" to pay off MPs ahead of a vote over a controversial nuclear deal. The India Cables : 162458: Cash-for-votes ahead of confidence motion. 162458 7/17/2008 13:23 08 NEWDELHI 1972 Embassy New Delhi SECRET 08 KOLKATA 209 "VZCZCXRO9793OO RUEHBI RUEHCI RUEHLH RUEHPWDE RUEHNE #1972/01 1991323ZNY SSSSS ZZHO 171323Z JUL 08FM AMEMBASSY NEW DELHITO RUEHC/SECSTATE WASHDC IMMEDIATE 2668INFO RUCNCLS/ALL SOUTH AND CENTRAL ASIA COLLECTIVERUCNNSG/NUCLEAR SUPPLIERS GROUP COLLECTIVERUEAIIA/CIA WASHDCRHEBAAA/DEPT OF ENERGY WASHINGTON DCRUEKJCS/JOINT STAFF WASHDCRHEHNSC/NSC WASHDCRUEKJCS/SECDEF WASHDCRUEHUNV/USMISSION UNVIE VIENNA 1566RUCNDT/USMISSION USUN NEW YORK 6661" "S E C R E T SECTION 01 OF 04 NEW DELHI 001972 Classified By: Charge D'Affaires Steven White for Reasons 1.4 (B and D) 1.
---