Speaking
Speaking English. How to Come Up with Good Conversation Topics (with Sample Topics) Edit Article Basic Conversation StartersExtending the ConversationPushing BoundariesConversation Help Edited by Cheyanna1, Brandywine, Glutted, Ben Rubenstein and 113 others Getting to know other people is a typical activity in our daily lives.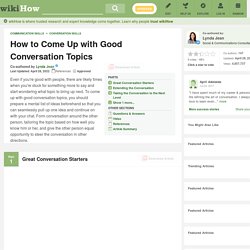 Even if you're good with people, there are likely to be times when you're stuck for something more to say and start wondering what topic to bring up next. Online language practice community by Rosetta Stone. RWorld: Online Language Practice RWorld is an online community where you can practice your language skills.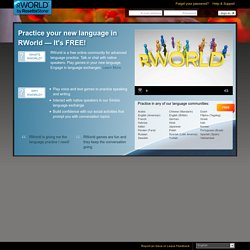 In RWorld, you'll be completely immersed in your new language in a social environment filled with fun, interactive activities. Communicate and connect with native and advanced speakers to enhance your conversational skills in the language of your choice. Available Languages Select from 24 languages to practice: Arabic, Chinese (Mandarin), Dutch, English (American), English (British), Filipino (Tagalog), French, German, Greek, Hebrew, Hindi, Irish, Italian, Japanese, Korean, Persian (Farsi), Polish, Portuguese (Brazilian), Russian, Spanish (Latin American), Spanish (Spain), Swedish, Turkish, Vietnamese.
Creative Writing Prompts Part One [1-50] Spoken English Blog/Website: Learn to speak fluently. Yada Yada English-A site of English Conversation Strategies. Discussion topics for English language learners. Tell Us About .... English Speaking. Conversation Questions and Resources for ESL, EFL, ESOL Teachers. Conversation phrases and expressions for speaking practice. Speaking - Dialogues and role-play in English - Diálogos en inglés.
Recursos para estudiantes de inglés de todos los niveles, profesores y traductores.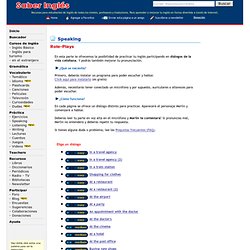 Para aprender o mejorar tu inglés en forma divertida a través de Internet. Haz doble click sobre una palabra para ver la traducción Babylon Traductor gratis. Speaking. Welcome to EnglishClub.com Speaking for ESL learners, to help you learn and practise the skill of speaking English.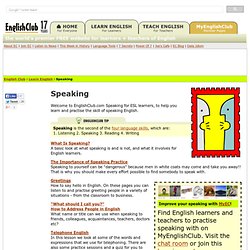 Speaking is the second of the four language skills, which are: 1. Listening 2. Speaking 3. Reading 4. Writing. Conversation Questions for the ESL/EFL Classroom. If this is your first time here, then read the Teacher's Guide to Using These PagesIf you can think of a good question for any list, please send it to us.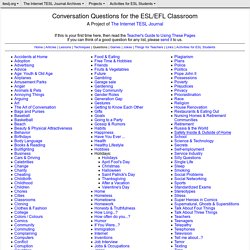 Home | Articles | Lessons | Techniques | Questions | Games | Jokes | Things for Teachers | Links | Activities for ESL Students Would you like to help? If you can think of a good question for any list, please send it to us. If you would like to suggest another topic, please send it and a set of questions to begin the topic. Copyright © 1997-2010 by The Internet TESL Journal Pages from this site should not be put online elsewhere.Permission is not required to link directly to any page on our site as long as you do not trap the page inside a frame.
---