Speaking
Great resources for Conversation Classes | Teacher Training Blog
Great resources for Conversation Classes | Teacher Training Blog
Creative Writing Prompts Part One [1-50]
Spoken English Blog/Website: Learn to speak fluently
Yada Yada English-A site of English Conversation Strategies
Discussion topics for English language learners
Tell Us About ....
English Speaking
Conversation Questions and Resources for ESL, EFL, ESOL Teachers
Recursos para estudiantes de inglés de todos los niveles, profesores y traductores.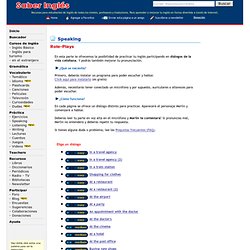 Welcome to EnglishClub.com Speaking for ESL learners, to help you learn and practise the skill of speaking English. Speaking is the second of the four language skills , which are: 1.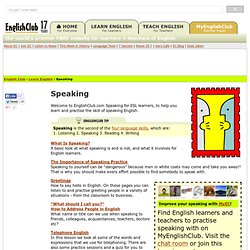 If this is your first time here, then read the Teacher's Guide to Using These Pages If you can think of a good question for any list, please send it to us. Home | Articles | Lessons | Techniques | Questions | Games | Jokes | Things for Teachers | Links | Activities for ESL Students