Video Games
Liste de jeux Super Nintendo
Liste de jeux Megadrive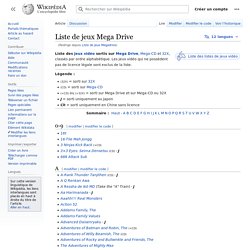 Un article de Wikipédia, l'encyclopédie libre. Liste des jeux vidéo sortis sur Megadrive , Mega-CD et 32X , organisés alphabétiquement par nom. Les jeux vidéo qui ne possèdent pas de licence légale sont exclus de la liste. Légende :
Liste chronologique des run and gun
10 des jeux vidéo les plus controversés | - Yahoo! Jeux France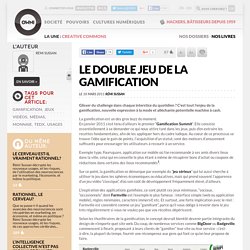 Glisser du challenge dans chaque interstice du quotidien ? C'est tout l'enjeu de la gamification, nouvelle expression à la mode et alléchante potentielle machine à cash. La gamification est un des gros buzz du moment.
Can I run Far Cry 3, Crysis 3, Battlefield 3, Assassin's Creed III, Hitman Absolution, Planetside 2, or Grand Theft Auto IV? Does my computer meet the minimum or recommended requirements for The Elder Scrolls V: Skyrim? Difficult questions. But evaluating whether or not your computer meets or exceeds hardware requirements is our specialty. Remembering your exact PC hardware specs is tough, deciphering the meaning of a PC game's minimum requirements is challenging and combining those tasks together is almost impossible for mere mortals. But Can You RUN It does this millions of times every month.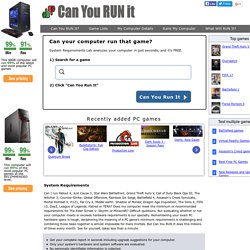 Portfolio
Les jeux Super Nintendo sur votre ordi Le Japon a récemment célébré les 20 ans de la sortie de la Super Nintendo dans l'archipel. Petite sélection de jeux historiques de la Super Nintendo et d'autres, disponibles en flash et gratuit. Les jeux cités ont souvent réussi la triple performance d'être à la fois succès commercial, plusieurs millions d'exemplaires vendus, un succès critique et de marquer une étape vidéoludique. Honneur à notre père à tous, le plombier Mario.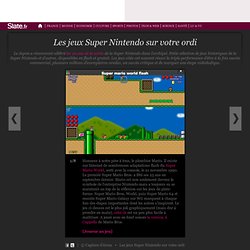 GrandTheftMario.com : les jeux Mario, gratuits en flash...