Reddit: Stimulating Websites
Ars Technica
Top 10 Lists - Listverse
Open Yale Courses
The Last Psychiatrist
Overcoming Bias
Welcome to Less Wrong
Sequences - Lesswrongwiki
A sequence is a series of multiple posts on Less Wrong on the same topic, to coherently and fully explore a particular thesis. Reading the sequences is the most systematic way to approach the Less Wrong archives.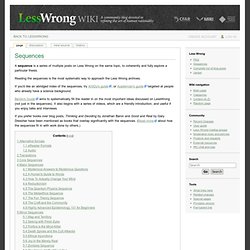 E=±mc²=Thé Ðëòxÿríßøñµçlëìç HÿÞêrdïmèñsîøñ
Philosophy Bro
Arts & Letters Daily - ideas, criticism, debate
Edge : Conversations on the edge of human knowledge
Brain Pickings
Random, Interesting, Amazing Facts - Fun Quizzes and Trivia
Coursera
Free Online Course Materials | MIT OpenCourseWare
Free Online Classes | Online Learning | Academic Earth
crashcourse
FUCKING HOMEPAGE
If Everyone Knew | Now with five more facts that everyone should know.