Reddit: Stimulating Websites
Ars Technica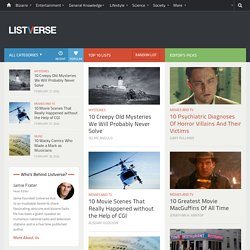 Top 10 Lists - Listverse
Pop Culture 10 Bizarre Facts About Michael Jackson History
Open Yale Courses
The Last Psychiatrist
November 30, 2013 sorry old man, I have a dress fitting to go to Continue reading: "Hunger Games Catching Fire: Badass Body Count" ››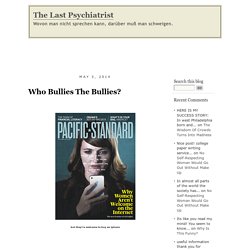 On the issue of whether to help now vs. later, many reasonable arguments have been collected on both sides. For example, positive interest rates argue for helping later, while declining need due to rising wealth argues for helping now. But I keep hearing one kind of argument I think is unreasonable, that doing stuff has good side effects: Donating to organizations (especially those that focus on influencing people) can help them reach more people and raise even more money. (more)
Overcoming Bias
Welcome to Less Wrong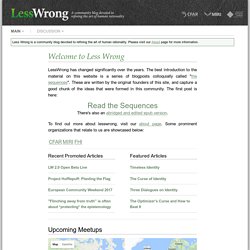 A curatedcommunityblogA community discussion boardA source of edited rationality materials ... And a promoter of regular meetups around the world. Less Wrong is:
Sequences - Lesswrongwiki
A sequence is a series of multiple posts on Less Wrong on the same topic, to coherently and fully explore a particular thesis. Reading the sequences is the most systematic way to approach the Less Wrong archives. If you'd like an abridged index of the sequences, try XiXiDu's guide, or Academian's guide targeted at people who already have a science background. Benito's Guide aims to systematically fill the reader in on the most important ideas discussed on LessWrong (not just in the sequences). It also begins with a series of videos, which are a friendly introduction, and useful if you enjoy talks and interviews. If you prefer books over blog posts, Thinking and Deciding by Jonathan Baron and Good and Real by Gary Drescher have been mentioned as books that overlap significantly with the sequences.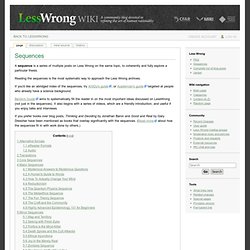 E=±mc²=Thé Ðëòxÿríßøñµçlëìç HÿÞêrdïmèñsîøñ
Look, there's been a lot of controversy lately about what is and isn't "good philosophy" and what we can and can't say, and opinions on that are like assholes - everyone's got one, and no one knows what to do about Wittgenstein's. But I think we can all agree that a really worthwhile task is understanding the world around us, especially with science. But no one is really talking about how science is supposed to work - they're just going around saying "Oh, science!
Philosophy Bro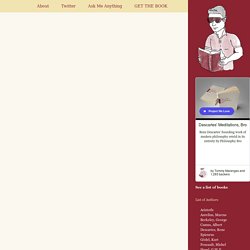 Arts & Letters Daily - ideas, criticism, debate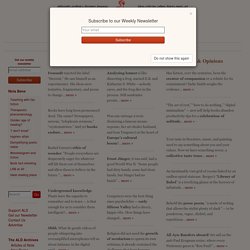 New material is added to Arts & Letters Daily six days a week. We continually test links for reliability. Despite our best efforts, links may fail (often only temporarily) without warning. We apologize for any inconvenience.
Edge : Conversations on the edge of human knowledge
Larry Page, Google and Katinka Matson, Edge, at The Edge Dinner 2014 in Vancouver A new generation of artists, writing genomes as fluently as Blake and Byron wrote verses, might create an abundance of new flowers and fruit and trees and birds to enrich the ecology of our planet. Most of these artists would be amateurs, but they would be in close touch with science, like the poets of the earlier Age of Wonder. The new Age of Wonder might bring together wealthy entrepreneurs ... and a worldwide community of gardeners and farmers and breeders, working together to make the planet beautiful as well as fertile, hospitable to hummingbirds as well as to humans. —Freeman Dyson In his 2009 talk at the Bristol Festival of Ideas, Freeman Dyson pointed out that we are entering a new Age of Wonder, which is dominated by computational biology. Brain Pickings
By: Maria Popova What a 13,000-year-old eucalyptus tree reveals about the meaning of human life. "Our overblown intellectual faculties seem to be telling us both that we are eternal and that we are not," philosopher Stephen Cave observed in his poignant meditation on our mortality paradox And yet we continue to long for the secrets of that ever-elusive eternity.
Random, Interesting, Amazing Facts - Fun Quizzes and Trivia
Coursera
Free Online Course Materials | MIT OpenCourseWare
Academic Earth believes everyone deserves access to a world-class education, which is why we continue to offer a comprehensive collection of free online college courses from the world's top universities. And now, we take learning outside the classroom with our original series of thought-provoking videos, designed to spark your intellectual curiosity and start a conversation. Watch, learn, share, debate.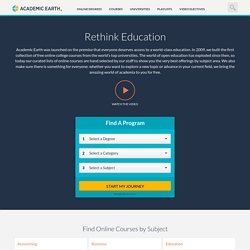 Free Online Classes | Online Learning | Academic Earth
crashcourse
FUCKING HOMEPAGE
Just six corporations[1] own the vast majority of media outlets in the United States. Through years of relentless mergers, acquisitions and consolidations, a handful of corporations have been able to dominate most of what Americans read, see and hear on a daily basis. There is much debate on the legitimacy of the consolidation of media, with strong proponents[2][3][4] and opponents[5][6][7] bringing forth a wide variety of arguments.[8] Regardless of your position on the viability of the concentration of media ownership into fewer and fewer hands, it is an irrefutable fact that over the past few decades the corporations controlling the preponderance of American media have lessened considerably.[9] As of 2011, the largest media corporations in the United States in terms of revenue and profit are: General Electric[10], Walt Disney, News Corp., Time Warner, CBS and Viacom.[11]
If Everyone Knew | Now with five more facts that everyone should know.