FUNDING
Enterprise Management Incentives. This guidance has been replaced by the guidance contained in the Employee Share Schemes User Manual (ESSUM).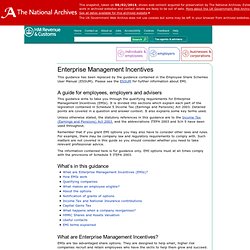 Please see the ESSUM for further information about EMI. A guide for employees, employers and advisers This guidance aims to take you through the qualifying requirements for Enterprise Management Incentives (EMIs). European Academy for Education and Social Research. Third Sector Research Centre - SEIF Evaluation. The Third Sector Research Centre works to enhance knowledge through independent and critical research.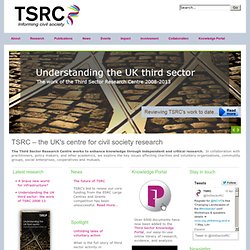 In collaboration with practitioners, policy makers, and other academics, we explore the key issues affecting charities and voluntary organisations, community groups, social enterprises, cooperatives and mutuals. News The future of TSRC. Indiegogo. Funding search - Sustainable funding. Enterprise Europe Network. Euroalert.net - Information about the European Union, EU funding, public contracts, EU Legislation, Events and News.
GeoVation. Enter the Challenge | GeoVation. Entrepreneurs, developers, community groups, innovators – enter the GeoVation Challenge for a chance to win a slice of innovation funding to help you develop your idea.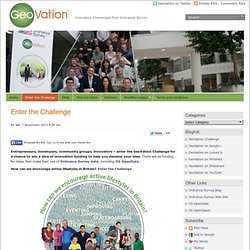 There will be funding for ideas that make best use of Ordnance Survey data, including OS OpenData. How can we encourage active lifestyles in Britain? Enter the Challenge. GeoVation Challenge - by IdeaScale | Popular. ECN: 852 consulting projects open for tender; 209 recruitments & subcontracting notices. Development Focus ECN has reached 1,138 members!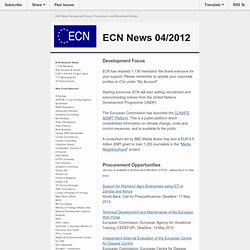 We thank everyone for your support. Please remember to update your corporate profiles or CVs under "My Account". Starting tomorrow, ECN will start adding recruitment and subcontracting notices from the United Nations Development Programme (UNDP). UK Enterprise Fund Wants to Invest in Technology | Wales Connects International Ltd. Photo by Ben Sutherland The UK Government via the Enterprise Fund is making available up to £40m destined to invest in potential highly scalable small and medium sized enterprises.
The Enterprise Fund incorporates private investors which are also contributing a substantial amount, furthermore the European Investment Fund (EIF) is a participating body. It has been stated that the ideal candidates are cloud computing enterprises delivering Software-as-a-Service (SaaS). The Business and Enterprise Minister Mark Prisk stated the this new investment will aid and support the growth of technology businesses.
New edition of the "Practical Guide to EU Funding Opportunities for Research and Innovation" published by the European Commission on 27/02/2012. Publications - Practical Guide to EU Funding Opportunities for Research and Innovation. This new edition of the "Practical Guide to EU Funding Opportunities for Research and Innovation" includes a full up-to-date picture of the sources of funding described in the initial Guide, published in 2008.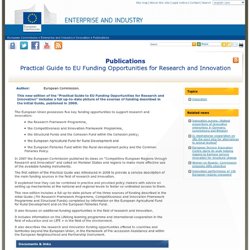 The European Union possesses five key funding opportunities to support research and innovation: the Research Framework Programme, the Competitiveness and Innovation Framework Programme, the Structural Funds and the Cohesion Fund within the Cohesion policy; the European Agricultural Fund for Rural Development and the European Fisheries Fund within the Rural development policy and the Common Fisheries Policy. In 2007 the European Commission published its ideas on "Competitive European Regions through Research and Innovation" and called on Member States and regions to make more effective use of the available funding instruments. Practical Guide to EU funding opportunities for Research and Innovation. Introduction In an open global economy, competitiveness relies on the capacity of businesses to create high valueadded goods and services.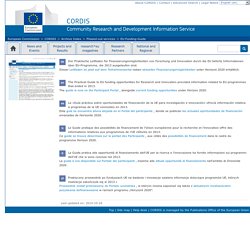 A move towards innovation-based sustainable growth is therefore at the heart of the EU's response to globalisation. PHR - Funding - Commissioned. Commissioned research calls The following commissioning briefs are now open.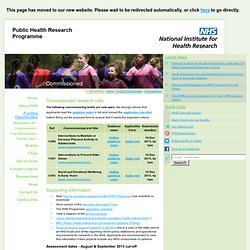 We strongly advise that applicants read the guidance notes in full and consult the application checklist before filling out the proposal form to ensure that it meets the expected criteria. Ukieri. Astal communiteis fund and wales. Coastal Communities Fund. Western Power Distribution community chest | Projects. £50,000 for communities in the Midlands, the South West and South Wales to reduce their energy use The WPD Community Chest is a £50,000 grant scheme, funded by Western Power Distribution and administered by CSE, which is now open for the third time.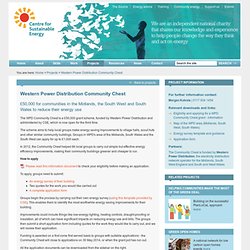 The scheme aims to help local groups make energy saving improvements to village halls, scout huts and other similar community buildings. Groups in WPD's area of the Midlands, South Wales and the South West can apply for up to £1,000 each. In 2012, the Community Chest helped 66 local groups to carry out simple but effective energy efficiency improvements, making their community buildings greener and cheaper to run. How to apply. Ceredigion County Council-Ceredigion Social Enterprise Growth Fund. Applications are invited for capital only schemes at a maximum intervention rate of 75%.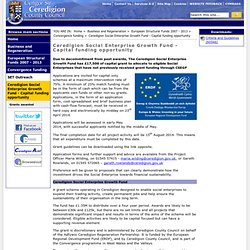 A minimum of 25% match funding must be in the form of cash which can be from the applicants own funds or other non-eu grants. Applications, in the form of an application form, cost spreadsheet and brief business plan with cash-flow forecast, must be received in hard copy and electronically by midday on 23rd April 2014. Ireland Wales Programme 2007 - 2013. Research and Learning. Coastal Communities Fund.
Big Lottery Fund. Turn2us - to access benefits and grants. Google.
---