E-commerce
Get flash to fully experience Pearltrees
Welcome to E-Commerce Step-by-Step.
15 Essential Tools for New SOHO Ecommerce Businesses | Article Published On 14-Mar-12 These SEO, shopping cart and email marketing tools are completely free SOHO ecommerce tools -- as in "really free" and not "free trial" free. Best Hosted Mobile Stores for Less Than $30 | Article Published On 08-Feb-12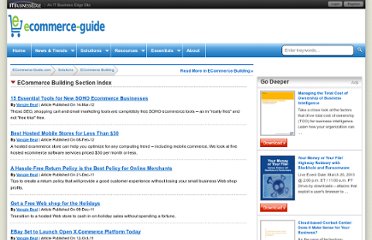 Introduction: The Elements of E-Commerce Your business may be small-but the Internet lets you think big. Whatever product or service your business offers, the Internet levels the playing field and lets you compete with bigger businesses, reaching customers around the world who can conveniently buy from you 24 hours a day.
Actinic eCommerce Software