Craft
Inspiration
Blog. Did you ever have to build a diorama for a school project?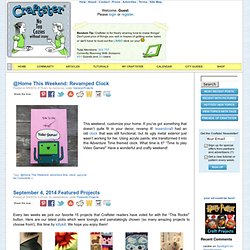 In 5th grade we had to enter the Science Fair and my project was the Solar System. You know, back when Pluto was a planet.Those were the days, but I digress. Ever since then I have been fascinated with dioramas. This year's Christmas gifts (pudgy post) Last year for Christmas, I made Gir, a Triforce pillow, scarf and hat set for my mom, hats for my boyfriends nieces and nephew, and a penguin and dragon for my cousins.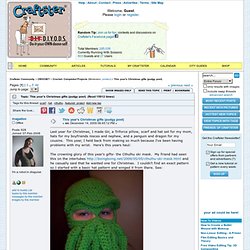 This year, I held back from making so much because I've been having problems with my wrist. Here's this years haul: The crowning glory of this year's gifts- the Cthulhu ski mask. Wire Wrapped Tree Of Life Ornament. OPTIONS: 1.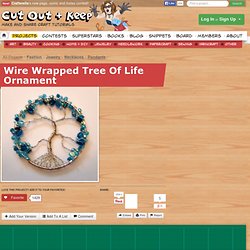 Pendant Size Tree: If you need to make a smaller Tree of Life for a pendant or even a tiny one for earrings, you'll simply want to use a smaller ring and also decrease the number of wires used. Just remember, you'll always want to have a multiple of three (3, 6, 9...) because you'll be braiding the roots of the tree. 2. Adding charms: If you'd like to add charms to your tree, just add them while your twisting the branches or before you add beads to the branch, depending on where you want the charm to hang. 3. Fuller Trees: If you prefer the fuller looking trees, don't twist the branches as close to the edge as I did here. Why do you wear that stupid bunny suit? - Frank from Donnie Darko - CRAFTSTER CRAFT CHALLENGES. I've wanted to be Frank the Bunny for a long time, and finally decided to go as him for Halloween 2010.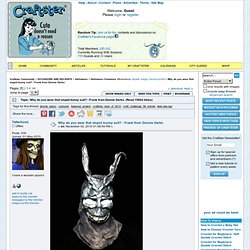 The mask and the claws were sculpted out of claw, molded in silicone, and finally cast in resin. It was just my second time working with those materials, so there were some bumps along the way! A lot of sanding, dremelling and hot-glue-gunning action were going on! The mask and claws were spray painted, with details added in acrylics.
Papper
Handgjordasaker.se - Köp och sälj allt handgjort! Smart. Grand Piano Pillow (with tutorial) (Warning: picture overload) Last month was my boyfriend's birthday.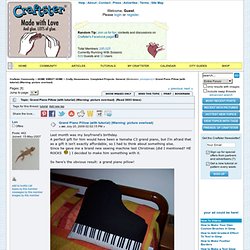 A perfect gift for him would have been a Yamaha C3 grand piano, but I'm afraid that as a gift it isn't exactly affordable, so I had to think about something else. Since he gave me a brand new sewing machine last Christmas (did I mentioned? HE ROCKS ) I decided to make him something with it. So here's the obvious result: a grand piano pillow! Crafty Chic: Pillowcases.
"By luck, I stumbled upon your site, and of course I wanted to try it out.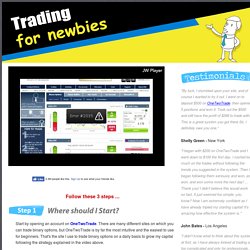 I went on to deposit $500 on OneTwoTrade, then opened 5 positions and won 4. Took out the $500 and still have the profit of $288 to trade with.
---