Craft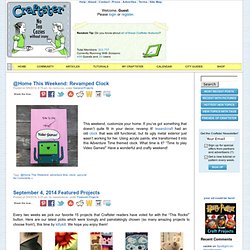 Blog
Yarn Egg Tutorial The crew at our parent company, Internet Brands, decided to get crafty for Spring and make yarn-mache eggs! This is a fun and simple craft that is great for groups! What you'll need: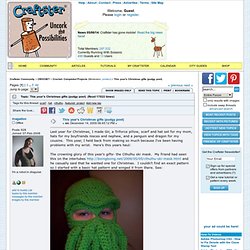 Last year for Christmas, I made Gir, a Triforce pillow, scarf and hat set for my mom, hats for my boyfriends nieces and nephew, and a penguin and dragon for my cousins. This year, I held back from making so much because I've been having problems with my wrist. Here's this years haul: The crowning glory of this year's gifts- the Cthulhu ski mask. My friend had seen this on the intertubes http://boingboing.net/2009/05/05/cthulhu-ski-mask.html and he casually said that he wanted one for Christmas. I couldn't find an exact pattern so I started with a basic hat pattern and winged it from there.
This year's Christmas gifts (pudgy post) - CROCHET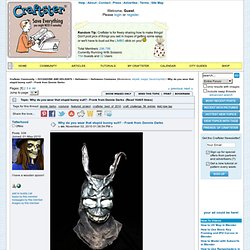 I've wanted to be Frank the Bunny for a long time, and finally decided to go as him for Halloween 2010. The mask and the claws were sculpted out of claw, molded in silicone, and finally cast in resin. It was just my second time working with those materials, so there were some bumps along the way! A lot of sanding, dremelling and hot-glue-gunning action were going on! The mask and claws were spray painted, with details added in acrylics. The fur suit was based on Simplicity pattern 2853 with some modifications.
Why do you wear that stupid bunny suit? - Frank from Donnie Darko - CRAFTSTER CRAFT CHALLENGES
Du kan kanske inte se denna sida på grund av ett föråldrat bokmärke/favorit en sökmotor som har en föråldrad datumangivelse för denna webbplats en felstavad adress du har inte behörighet att se denna sida Kunde inte hitta den efterfrågade resursen ett fel inträffade under hanteringen av din begäran. Försök istället med Om problemet kvarstår, kontakta systemansvarig för denna webbplats.. Kan inte hitta View [name, type, prefix]: front, html, adsmanagerView
Handgjordasaker.se - Köp och sälj allt handgjort!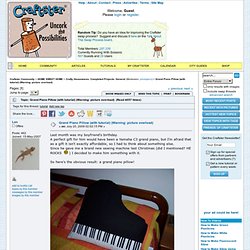 Last month was my boyfriend's birthday. A perfect gift for him would have been a Yamaha C3 grand piano, but I'm afraid that as a gift it isn't exactly affordable, so I had to think about something else. Since he gave me a brand new sewing machine last Christmas (did I mentioned?
Grand Piano Pillow (with tutorial) (Warning: picture overload) - HOME SWEET HOME
Crafty Chic: Pillowcases