Definitionen
Halloween. Halloween or Hallowe'en (/ˌhæləˈwiːn, -oʊˈiːn, ˌhɑːl-/; a contraction of "All Hallows' Evening")[5] also known as All Hallows' Eve,[6] is a yearly celebration observed in a number of countries on 31 October, the eve of the Western Christian feast of All Hallows' Day.
It initiates the triduum of Hallowtide, the time in the liturgical year dedicated to remembering the dead, including saints (hallows), martyrs, and all the faithful departed believers.[7] According to many academic scholars, All Hallows' Eve is a Christianized feast initially influenced by Celtic harvest festivals,[8][9] with possible pagan roots, particularly the Gaelic Samhain.[6][10][11] Other academic scholars maintain that it originated independently of Samhain and has solely Christian roots.[12]
Ehrlichkeit. Die Ehre (Ehrenhaftigkeit) als persönliches Attribut kann als Ergebnis der Ehrlichkeit (ehrlichen Verhaltens) angesehen werden.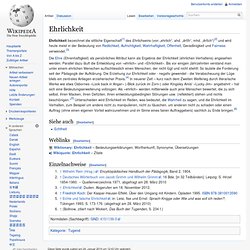 Parallel dazu läuft die Entwicklung von »ehrlich« und »Ehrlichkeit«. Bis vor einigen Jahrzehnten verstand man unter einem ehrlichen Menschen außschliesslich einen Menschen, der nicht lügt und nicht stiehlt: So lautete die Forderung seit der Pädagogik der Aufklärung. Augenmuster im NLP/Mind Mysteries/Egomanie.com. Lügen erkennen/Mind Mysteries/Egomanie.com. Ehrlichkeit. Aus Wikiquote, der freien Zitatsammlung Zitate[Bearbeiten] "Alle Menschen werden ehrlich geboren und sterben als Betrüger.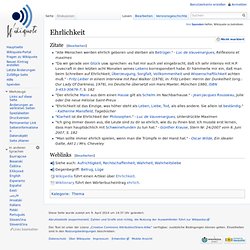 " - Luc de Vauvenargues, Réflexions et maximes"Da wir gerade von Glück usw. sprechen: es hat mir auch viel eingebracht, daß ich sehr intensiv mit H.P. Lovecraft in den letzten acht Monaten seines Lebens korrespondiert habe. Er hämmerte mir ein, daß man beim Schreiben auf Ehrlichkeit, Überzeugung, Sorgfalt, Vollkommenheit und Wissenschaftlichkeit achten muß. " - Fritz Leiber in einem Interview mit Paul Walker (1978), in: Fritz Leiber: Herrin der Dunkelheit (orig.: Our Lady Of Darkness, 1976), ins Deutsche übersetzt von Hans Maeter, München 1980, ISBN 3-453-30676-7, S. 182"Der ehrliche Mann aus dem einen Hause gilt als Schelm im Nachbarhause. " - Jean-Jacques Rousseau, Julie oder Die neue Héloïse Saint-Preux"Ehrlichkeit ist das Einzige, was höher steht als Leben, Liebe, Tod, als alles andere.
Wikis
---