Japon 3/11
#Fukushima. Earthquakes and Japanese Patent Activity - Tom Nicholas - HBS Faculty. By Tom Nicholas | 9:29 AM March 21, 2011 Just before noon in September 1923, the Kanto region (where Tokyo is located) was affected by a strong earthquake. The Grand Kanto Earthquake, as it has become known, led to the destruction of Tokyo and Yokohama. Over 100,000 people lost their lives. Despite the severity of the earthquake and its aftermath, the country quickly recovered in key areas of economic activity. Consider patents as a proxy for resources devoted to innovation. Japan Nuclear Plant situation. Pictures From Japanese Earthquake And Tsunamis. Pictures From Japanese Earthquake And Tsunamis. Japan hit by tsunami after massive earthquake. Japanese Government Confirms Meltdown. If you are a current subscriber, log in here.
Stratfor - the leader in Geopolitical Analysis: Political Economic Military Our readers get: Situational Awareness - real-time reports of key events - no fluff. Analysis - what events really mean, without ideology or spin. Why take iodide for radiation poisoning? « the bunsen boerner. The picture above is an aerial view of the Fukushima Daiichi power plant.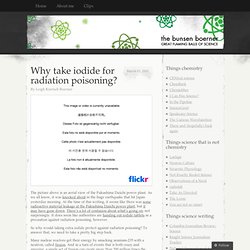 As we all know, it was knocked about in the huge earthquake that hit Japan yesterday morning. At the time of this writing, it seems like there was some radioactive material leakage at the Fukushima Daiichi power plant, but it may have gone down. There's a lot of confusion about what's going on, not surprisingly.
It does seem like authorities are handing out iodide tablets as a precaution against radiation poisoning, however. So why would taking extra iodide protect against radiation poisoning?
---