IP
Intellectual Property Resource Pages - Kent Law School
Publications Showing all 198 relevant publications currently held in our databaseChange to sort them by title | name | type OR Show only Recent | Selected publications D Gangjee, Research Handbook on Intellectual Property and Geographical Indications (Edward Elgar, Cheltenham 2014) (forthcoming) D Gangjee, 'Spanish Champagne: An Unfair Competition Approach to GI Protection' in R.C.
Oxford Law :: Oxford Intellectual Property Research Centre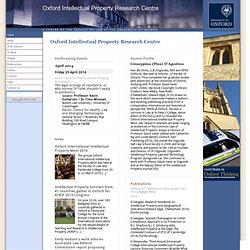 CWCW Canada a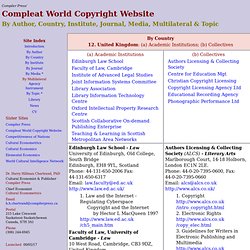 Edinburgh Law School - Law University of Edinburgh, Old College, South Bridge Edinburgh, EH8 9YL, Scotland Phone: 44-131-650-2006 Fax: 44-131-650-6317 Email: law.faculty@ed.ac.ukhttp://www.law.ed.ac.uk/ 1. Law and the Internet - Regulating Cyberspace Copyright and the Internet by Hector L MacQueen 1997http://www.law.ed.ac.uk/ch5_main.htm Faculty of Law, University of Cambridge - Law 10 West Road, Cambridge, CB3 9DZ, United Kingdom Phone: +44 1223 330033 Fax: +44 1223 330055 Email: admin@law.cam.ac.ukhttp://www.law.cam.ac.uk/Home.htm Legal Essays indexed by subject: Intellectual Propertyhttp://www.law.cam.ac.uk/essays/intell.htm 13.
La valoración económica de las patentes
Formulaires Marque
Trademark Electronic Search System (TESS)
Escrito por Christopher Kalanje, Consultor, División de la OMPI de Pequeñas y Medianas Empresas1 Resumen Tradicionalmente, la mayoría de las empresas que han utilizado el sistema de propiedad intelectual han hecho ante todo para impedir que los competidores quieran aprovecharse de su nicho de mercado. Así pues, las empresas han considerado sus patentes esencialmente como "obstáculos o barreras jurídicas" contra los competidores en potencia. Esto ha sido posible gracias a que el derecho básico del titular de una patente es el de impedir que terceros realicen ciertos actos.
Aprovechar al máximo el sistema de propiedad intelectual: Algo más que el "derecho a excluir"
"El Gobierno del presidente Nicolás Maduro seguirá apoyando al Puerto Libre de Margarita. Necesitamos que los importadores vayan pensando en que también debemos generar emprendimientos productivos que paulatinamente vayan sustituyendo las importaciones", dijo el ministro Dante Rivas al definir la posición gubernamental en un encuentro que sostuvo con los empresarios insulares. Los comerciantes del Puerto Libre de Margarita se mostraron muy satisfechos con el encuentro operativo, en el que también participó la superintendente de Precios Justos, Andreina Tarazón, y que tuvo muy buenas resoluciones pues los representantes gubernamentales no solo escucharon sus propuestas, sino que dieron respuestas inmediatas a algunas de ellas y se comprometieron a responder sus solicitudes antes del viernes.
Servicio Autónomo de la Propiedad Intelectual (SAPI)
Portal INDECOPI
Instituto Mexicano de la Propiedad Industrial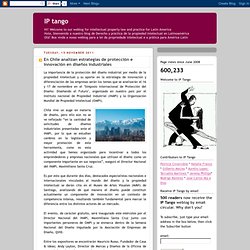 En Chile analizan estrategias de protección e innovación en diseños industriales
La importancia de la protección del diseño industrial por medio de la propiedad intelectual y su aporte en la estrategia de innovación y diferenciación de las empresas serán los temas que se analizarán el 16 y 17 de noviembre en el "Simposio Internacional de Protección del Diseño: Diseñando el Futuro", organizado en nuestro país por el Instituto nacional de Propiedad Industrial (INAPI) y la Organización Mundial de Propiedad Intelectual (OMPI). Chile vive un auge en materia de diseño, pero ello aún no se ve reflejado "en la cantidad de solicitudes de diseños industriales presentadas ante el INAPI, por lo que se estudian cambios en la legislación y mayor promoción de esta herramienta, como es esta actividad que hemos organizado para incentivar a todos los emprendedores y empresas nacionales que utilizan el diseño como un componente importante en sus negocios", aseguró el Director Nacional del INAPI, Maximiliano Santa Cruz.
Business-in-a-Box™ | The World's #1 Business Documents Templates Software!
otm.illinois.edu/sites/all/files/files/inventiondisclosure.pdf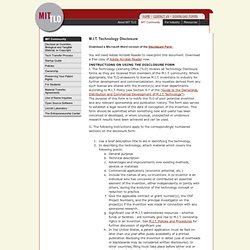 M.I.T. Technology Disclosure - MIT-TLO
Download a Microsoft Word version of the Disclosure Form . You will need Adobe Acrobat Reader to view/print this document. Download a free copy of Adobe Acrobat Reader now. I. The Technology Licensing Office (TLO) reviews all Technology Disclosure forms as they are received from members of the M.I.T. community.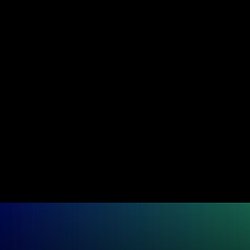 Apley & Straube: Patent, Trademark, and Design Attorneys: IP in Europe and Germany
Patent and Utility Model Law (Europe and Germany) Trademark Law (Europe and Germany) Design Law (Europe and Germany) Apley & Straube Partnerschaft Patentanwälte is an intellectual property law firm. Apley & Straube provides high level services covering every aspect of European and German patent, utility model, trademark, and design law. Apley & Straube is located near to the European and German Patent Offices.
Intellectual-Property-Management-Software
Knowledge Sharing Systems
About Us Founded over 21 years ago, we develop industry-leading intellectual property management software. Inteum clients include technology transfer offices at over 400 installations in 22 countries around the globe, including universities, research institutions, federal labs, corporations, and startups. Read more Products Inteum is a cloud-based technology transfer software solution designed for intellectual property management and technology licensing professionals.
Inteum Company LLC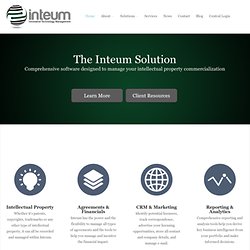 The decision to patent or not to patent is a difficult one. It becomes even harder when you are in a research-oriented environment where there is a large amount of innovation and little money for patenting. You may be receiving a large flow of new technology disclosures to process and on which to make decisions. There are many factors to consider. Is there freedom to practice the innovation? Are there multiple fields to which the innovation could apply?
Hopes Creek Consulting | Stategic Intellectual Property Analysis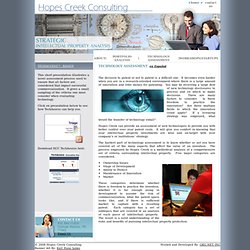 ABG Patentes « ABG Patentes
Tras una travesura matemática, Google se quedó sin 6.000 patentes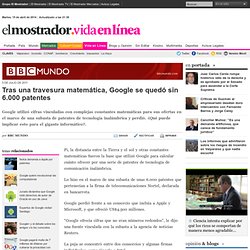 Pi, la distancia entre la Tierra y el sol y otras constantes matemáticas fueron la base que utilizó Google para calcular cuánto ofrecer por una serie de patentes de tecnología de comunicación inalámbrica. Lo hizo en el marco de una subasta de unas 6.000 patentes que pertenecían a la firma de telecomunicaciones Nortel, declarada en bancarrota. Google perdió frente a un consorcio que incluía a Apple y Microsoft, y que ofreció US$4.500 millones. "Google ofrecía cifras que no eran números redondos", le dijo una fuente vinculada con la subasta a la agencia de noticias Reuters. La puja se concentró entre dos consorcios y algunas firmas individuales, como Google e Intel. Pi, Brun y Meissel-Mertens
Product 14.24 Description This product is a snapshot of the EPO master documentation database (DOCDB) with worldwide coverage, containing 20 tables including bibliographic data, citations and family links. It is designed to be used for statistical research and requires the data to be loaded in the customer's own database. An updated version is made available twice per year (April and October). Users who require legal event information must enhance their database with the table containing legal status data (see product 14.24.1).
EPO Worldwide Patent Statistical Database
Sorry you landed on this error page Old documents have been removed from the website and archived elsewhere. If the document you were looking for is old, please ask our Archives department for assistance. Try our A to Z Index to find what you were looking for. If you would link to report a broken link, please use the form at the bottom of the Contact us page. Désolé que vous soyez tombés sur ce message d'erreur
Environmental Policy and Technological Innovation (EPTI)
Para pares de Patentes
El Ideaxxion IP News
7428820
According to one aspect, there is provided a refrigerator including a refrigerating chamber formed at a relatively upper portion of a refrigerator body and a freezing chamber formed at a relatively lower portion of the refrigerator body, which comprises an ice-making chamber which is partitioned in the refrigerating chamber by insulating walls and includes an icemaker for making ice and an ice storage for storing the ice made in the icemaker. The temperature in the refrigerating chamber can be accurately controlled, the loss of cold air can be minimized and the structures for supplying water into the icemaker and the dispenser can be simplified.
IBM made 1.2 bn$ from patent royalties in 2008 – cost to register the patents internationally ? About 2 – 8 Bn$ » Koltais whatif
Intellectual Property (IP)