Data Map
TargetMap - Create & share customized data maps on Googlemaps. Free Online Mapping tool. Data and Maps for ArcGIS | DVDs. Data and Maps for ArcGIS includes A set of ready-to-use maps and data layers, including a variety of basemap and thematic layers for the world with scale-dependent rendering and labeling and the ability to turn layers on and off.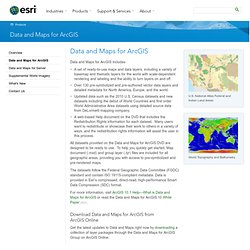 Over 130 pre-symbolized and pre-authored vector data layers and detailed metadata for North America, Europe, and the world. Updated data such as the 2010 U.S. Census datasets and new datasets including the debut of World Countries and first order World Administrative Area datasets using detailed source data from DeLorme® mapping company. A web-based Help document on the DVD that includes the Redistribution Rights information for each dataset. State Data Map. Download Database Conversion / Migration Tool: MapForce. A 64-bit version of MapForce is also available to download and evaluate (requires a 64-bit operating system).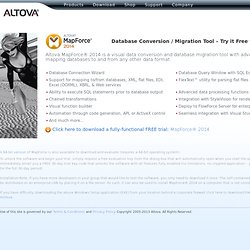 To unlock the software and begin your trial, simply request a free evaluation key from the dialog box that will automatically open when you start the application. Our license server will immediately email you a FREE 30-day trial key code that unlocks the software with all features fully enabled (no limitations, no crippled application – you can use MapForce productively for the full 30-day period). Installation Note: If you have more developers in your group that would like to test the software, you only need to download it once. The self-contained Installer for MapForce® 2014 can be distributed on an enterprise LAN by placing it on a file server.
---