Video blogs
.:: Alexandre Verreault ::. Motionographer | Sharing the best in motion graphics, design, animation, filmmaking and visual effects. Stefan Minning: CG Artist and Developer. Short Films Hub - Just short films, Shorter the better. DSLR & Film Camera Accessories. Reel Roulette: Top 20 Reels. Studio Daily Blog » VES Bay Area Panel: Dos and Don'ts of 3D Stereo. The VES Bay Area Section of the Visual Effects Society (VES) presented a panel on "Exploring 3D Stereo Dos and Don'ts" during an industry party that drew over 400 people and was hosted by The Kerner Group at Kerner's San Rafael Studios.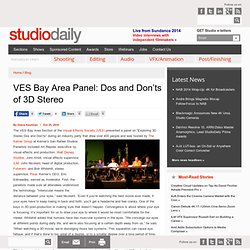 Panelists included Art Repola, executive vp, visual effects and production, Walt Disney Studios; John Knoll, visual effects supervisor, ILM; John Nicolard, head of digital production, Fotokem; and Bob Whitehill, stereo supervisor, Pixar. Kerner's CEO, Eric Edmeades, served as moderator. Studio Daily Store | Webinars | Creating Lightning: How RISE Visual Effects Brought Flash to Zeus's Bolt. FREE Archived Webinar Creating Lightning: How RISE Visual Effects Brought Flash to Zeus's BoltPresenter: Florian GellingerVFX Supervisor, RISE Visual Effects Who should attend: VFX artists, Compositors, 3D Animators, VFX Producers, VFX Supervisors, Production Managers, VFX Pipeline Developers This hands-on Webinar, brought to you by StudioDaily, GenArts and The Foundry, will present and dissect a shot from the recent movie <em>Percy Jackson and the Olympians: The Lightning Thief</em>, directed by Chris Columbus.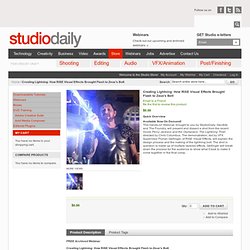 The demonstration, led by VFX Supervisor Florian Gellinger, of RISE Visual Effects, will explain the design process and the making of the lightning bolt. The shot in question is made up of multiple layered effects.
---