Sonia Sotomayor
Sotomayor Confirmation Hearing, Day 1, Part 1 287672-1 : C-SPAN. Live Blogging Sotomayor Hearings, Day 3 - The Caucus Blog - NYTi. Brendan Smialowski for The New York TimesJudge Sotomayor took notes during the questioning.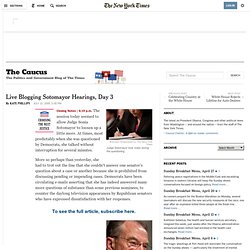 Closing Notes | 6:19 p.m. The session today seemed to allow Judge Sonia Sotomayor to loosen up a little more. At times, most predictably when she was questioned by Democrats, she talked without interruption for several minutes. More so perhaps than yesterday, she had to trot out the line that she couldn't answer one senator's question about a case or another because she is prohibited from discussing pending or impending cases. Democrats have been circulating e-mails asserting that she has indeed answered many more questions of substance than some previous nominees, to counter the daylong television appearances by Republican senators who have expressed dissatisfaction with her responses. Live Blogging Sotomayor Hearings, Day 4 - The Caucus Blog - NYTi. Doug Mills/The New York Times Judge Sonia Sotomayor at her Senate Judiciary Committee confirmation hearing on Thursday.
It's a Wrap | 8:52 p.m. The Senate Judiciary Committee has concluded the confirmation hearings for Judge Sonia Sotomayor, going well into the evening with many witnesses testifying for and against her positions. On the the fourth and final day, the dominant headline perhaps was probably simply the timetable going forward for votes on her nomination. Around midday, Senator Jeff Sessions, the ranking Republican member, announced that he would not support a filibuster of her nomination, nor did he think other Republicans on the panel would.
And he endorsed a full Senate vote before the Senate breaks for the summer in early August. Live Blogging Sotomayor Hearings, Day 2 - The Caucus Blog - NYTi. Stephen Crowley/The New York TimesDuring her first day of back-and-forth questioning, Judge Sonia Sotomayor spent considerable time trying to defend or deflect the repeated hammering by Republican senators on her "wise Latina" remarks.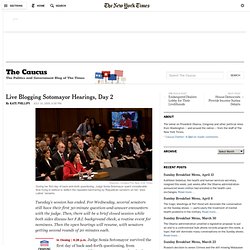 Tuesday's session has ended. For Wednesday, several senators still have their first 30-minute question-and-answer encounters with the judge. Then, there will be a brief closed session while both sides discuss her F.B.I. background check, a routine event for nominees. Then the open hearings will resume, with senators getting second rounds of 20 minutes each. In Closing | 6:28 p.m. Live Blogging the Sotomayor Hearings - The Caucus Blog - NYTimes. Stephen Crowley/The New York TimesSonia Sotomayor, the Supreme Court nominee, before the Senate Judiciary Committee on Monday.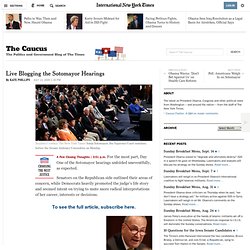 A Few Closing Thoughts | 3:51 p.m. For the most part, Day One of the Sotomayor hearings unfolded uneventfully, as expected. Senators on the Republican side outlined their areas of concern, while Democrats heavily promoted the judge's life story and seemed intent on trying to mute more radical interpretations of her career, interests or decisions. To see the full article, subscribe here. Senate Likely to Vote on Sotomayor by Early August. Les pompiers de New Haven sont-ils plus sages qu'une vieille dam. Je sais que ce titre est mystérieux de prime abord.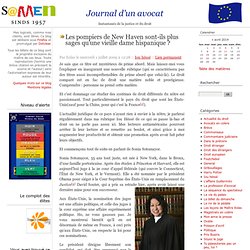 Mais laissez-moi vous l'expliquer en inaugurant une nouvelle rubrique (qui se caractérisera pas des titres aussi incompréhensibles de prime abord que celui-là). Le droit comparé est en fac de droit une matière noble et prestigieuse.