Programar
…has been voted "Best Augmented Reality Browser" by the AR community 4 years in a row. Explore and understand your world, simply "See more." Discover sights, pubs, shopping and even people around you. Wikitude will help you in new surroundings as well as in your own neighborhood. Are you looking for something?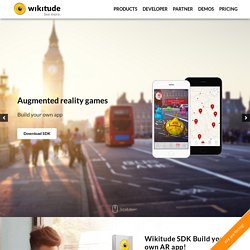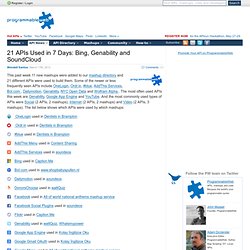 21 APIs Used in 7 Days: Bing, Genability and SoundCloud
This past week 11 new mashups were added to our mashup directory and 21 different APIs were used to build them. Some of the newer or less frequently seen APIs include OneLogin, Ordr.in, #blue, AddThis Services, Bol.com , Dailymotion, Genability, NYC Open Data and Wolfram Alpha . The most often used APIs this week are Genability, Google App Engine and YouTube. And the most commonly used types of APIs were Social (2 APIs, 2 mashups), Internet (2 APIs, 2 mashups) and Video (2 APIs, 3 mashups). The list below shows which APIs were used by which mashups: OneLogin used in Dentists in Brampton
Having an infant in the house combined with the winter weather has caused energy usage in our household to skyrocket. We are always keeping an eye out for ways to save and ProgrammableWeb lists great tools to help out. This week we'll look at mashups that help users monitor their energy consumption, become educated on energy and encourage them to reduce how much energy they are using. Simple Energy – Simple Energy uses social and game mechanics to engage energy customers and encourage them the reduce their energy consumption. APIs used include: Zillow, Twilio, SendGrid, Facebook, AmazonSES, AmazonRDSRelationalDatabaseService, AmazonEC2.
Best New Mashups: Energy Mashups using Amazon, Genability and DonorsChoose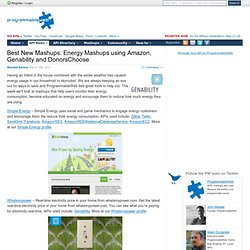 Numbers API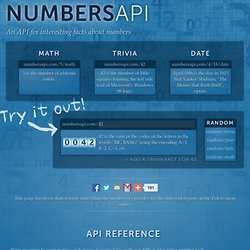 Bring meaning to your metrics and stories to your dates with our API of interesting number facts. URL Structure Just hit http://numbersapi.com/number/type to get a plain text response, where type is one of trivia, math, date, or year. Defaults to trivia if omitted.number isan integer, orthe keyword random, for which we will try to return a random available fact, ora day of year in the form month/day (eg. 2/29, 1/09, 04/1), if type is dateranges of numbers
Google continues to bring new APIs into its new developer site. The most recent addition is the Google Maps API, the company's popular platform for all things location, mobile and local. Though the flagship mapping API is given high visibility, the site contains information on the search giant's complete suite of geographic APIs, including the Google Earth API and Google Places API.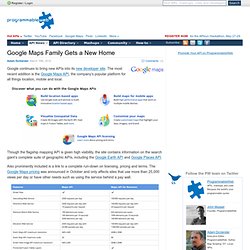 Google Maps Family Gets a New Home
61 Geolocation APIs: Panoramio, Google Gears and Yahoo
53 Books APIs: Google Books, Goodreads and SharedBook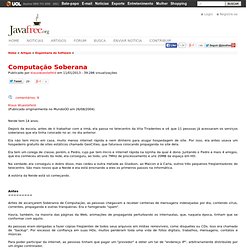 Home > Artigos > Engenharia de Software > Publicado por klauswuestefeld em 11/01/2013 - 39.286 visualizações comentários: 9 Klaus Wuestefeld(Publicado originalmente no MundoOO em 26/08/2004) Neide tem 14 anos.
putação Soberana
DEV in SAMPA é uma conferência multi-disciplinar que visa reunir profissionais em desenvolvimento de software, que pensam em contruir a tecnologia do futuro em áreas como linguagens emergentes, banco de dados alternativos, concorrência, sistemas distribuídos, desenvolvimento de móveis, da web e etc. DEV in SAMPA foi criado em 2009, inspirado no depoimento do Henrique Bastos e Silvestre Mergulhão sobre o DEV in RIO, na Rails Summit do mesmo ano. Então, Celestino Gomes, Evertom Ribeiro e Luis Cipriani se juntaram e organizam o evento. Os princípios do DEV in SAMPA são: Palestras não pagas. Nenhuma palestra é vendida para patrocinadores.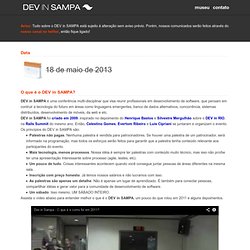 Dev in Sampa